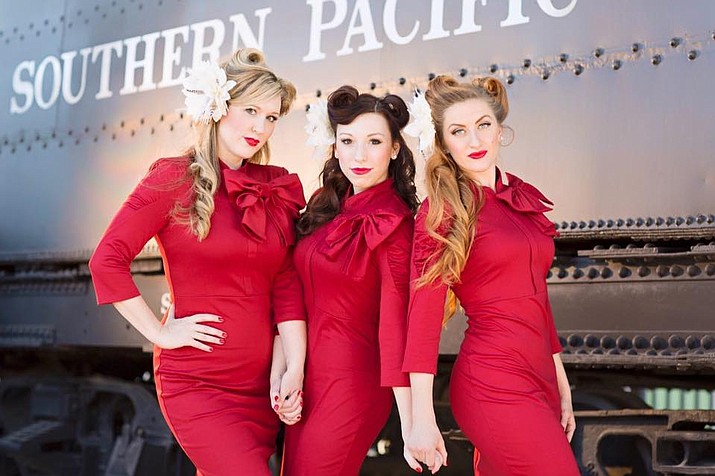 Originally Published: November 3, 2016 8:55 p.m.
On Saturday, Nov. 12, step back in time to the fabulous 1940s with the Manhattan Dolls.
The Dolls, with special guest Robert Shaw, bring their "Sentimental Journey" to the Elks Theatre and Performing Arts Center. The Lonely Street Productions presentation starts at 7 p.m. and will include popular tunes such as "Boogie Woogie Bugle Boy," "Sentimental Journey" and "Don't Fence Me In."
"It's going to have that big band feel from the 40s," Manhattan Dolls founder and CEO Heather Stricker said via telephone earlier this week.
Stricker founded the group after touring as a USO Girl through 2008-09. They went from base to base, performing for active duty military, veterans and the families of those overseas.
"I fell completely in love with it," Stricker said.
So when the USO decided to go in another direction, using modern music in their shows, she wanted to keep singing the music of the 1930s and '40s. The Manhattan Dolls were born.
The swing-style female vocal trio with the sound of The Andrews Sisters is now in its seventh season touring in the U.S. and abroad. According to their website, they've been featured on "The Rachael Ray Show," BBC Radio London, "Fox and Friends" and "The Tucson Morning Blend," of which Heather was a host until recently starting a new job.
This is not Manhattan Dolls' first appearance in Prescott.
"We've found that the audiences (in Prescott) are not just welcoming, they can get pretty rowdy," Stricker said, adding that they appreciate the music. "Our mission is to keep it alive, so audiences that are on board are fun."
They'll be joined by Robert Shaw.
"It's always a pleasure to have him as our guest star," she said, explaining it allows them to recreate songs The Andrews Sisters did with Bing Crosby and Frank Sinatra. "It just adds something to the show."
Among the tunes they'll sing together are "Don't Fence Me In" and "Is You Is or Is You Ain't My Baby?" Shaw also joins them for "God Bless the USA," a tribute to the nation's veterans. The day after Veterans Day is a good time to pay homage to veterans and thank them for their service.
"It's our honor to be able to come share this music from a very important time in our history," Stricker said, adding she hopes to draw a big crowd.
"If anybody's looking for a special treat for a parent or grandparent, this is the show to bring them to," she said.
Because the two-hour show – two acts with 13 or 14 songs per act – includes both popular Andrews Sisters tunes and more obscure ones, folks might hear songs they haven't heard in decades.
"It's amazing to see the recognition in their faces," Stricker said.
She added some audience members with dementia or Alzheimer's disease will sing every single word, and it brings their families to tears: "They haven't seen them so alive in a very long time."
"It's an amazing thing what music can do for people. It's pretty incredible," she said.
Tickets range from $22 to $30. Call 928-777-1370 or visit www.prescottelkstheater.com.
The Elks Theatre is located at 117 E. Gurley St. in downtown Prescott.
More like this story