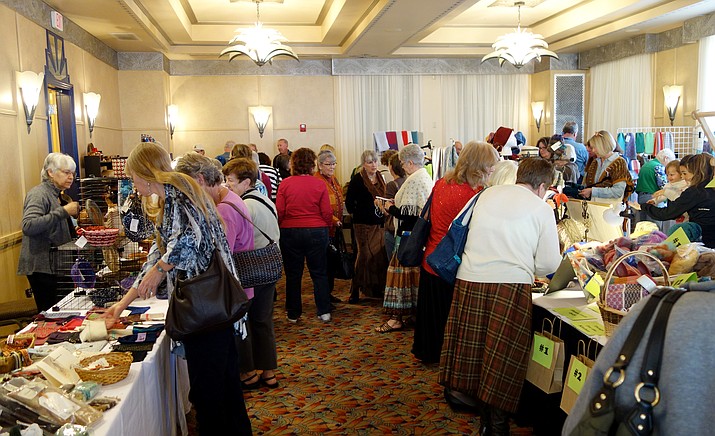 Originally Published: November 3, 2016 8:38 p.m.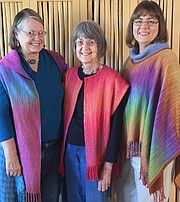 The seventh annual Mountain Spinners and Weavers Guild Holiday Show and Sale takes place from 10 a.m. to 4 p.m. Saturday, Nov. 12, at the Hassayampa Inn, Marina Building, 122 E. Gurley St. Shoppers may notice some members are wearing garments with tags. These shawls, vests, scarves are for sale and may be purchased right off the rack – er, back, said Barbara Kiger, Holiday Show and Sale chair and guild member since 1979.
The guild has about 120 members, but not all will offer their products for sale. Even so, there will be more than a thousand items from at least 40 artists for sale, Kiger said.
"Our membership is varied – young and old, beginners and professionals, experts in all the fiber disciplines," she said. "Several of our members raise their own animals, spin their fleece, and then weave or knit with the yarn. Others concentrate on handwoven wearables or household items."
The guild, founded in 1977, focuses mainly on keeping the traditional crafts alive through education and promoting interest and new skills in spinning, weaving, and related fiber crafts, such as dyeing, basketry, felt making, and knitting. The group meets monthly, and also conducts workshops and demonstrations at community events.
The Prescott Area Woodturners, who have similar goals, join the weavers and spinners at the Nov. 12 sale.
"We invited them to join us, and they make a nice complement to our work," Kiger said, adding that the handmade wood items cover the tables at the back of the room.
People can expect to see some demonstrations of spinning, weaving and felting. Products include a large number of garments, shawls, wraps, scarves, purses and jewelry with a woven component that complements other things for sale.
Then there are household items, rugs, tons of handwoven towels, which make nice house gifts that last for years, Kiger said, and some other small items like tiny purses, Christmas ornaments, and felted soaps.
More household items include table runners, placemats, baby blankets and hats, things for kids, stuffed animals, woven animals, a couple racks of hand-knit hats, socks, mittens, belts, dog leashes, woven keychains, and felted items like animals, containers and scarves. Basket makers' products include split bark and felted baskets.
In addition to finished handiwork, the members also offer handspun yarn, hand-dyed, hand-carded; homegrown fleece from local animal farms; yarns and fibers for knitting or spinning.
Ten to 15 raffle baskets, "generously loaded," include some with supplies and gift certificates to yarn stores, members' gift items, kitchen baskets, warm wearables (scarves and hats), and a children's basket (for grandmas).
"The reason we do the raffle is the amount we take in pays for the space for the day," Kiger said. "We really enjoy meeting our customers. There will be lots of people on the floor to explain and answer questions. It's a big deal for us. We have people from all over the state."

For more information, visit www.mtnspinweave.org.