Originally Published: November 3, 2016 10:43 p.m.
Photo Gallery
ERAU vs La Sierra Womens Soccer 110316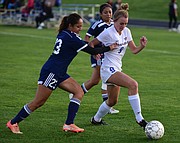 PRESCOTT — Estelle Fortes, Erica Nieves and Ally Leara each scored a goal, goalkeeper Abby Couto recorded her first shutout of the season and the Embry-Riddle women's soccer team tightened its grip on a Cal-Pac regular season title with a 3-0 win over La Sierra on Thursday afternoon.
Fortes' goal in the 58th minute was assisted by Breanna Larkin to make it 2-0 Eagles, which outshot La Sierra 34-0 on their way to a seventh straight victory.
Embry-Riddle (12-2-2, 6-1-0 Cal-Pac) can seal its second-straight conference championship with a win Saturday at Sierra Nevada College.
"Tonight fit with our team's pattern this season. Our leading goal scorer has like five goals, but we've scored 41 this year," Embry-Riddle head coach Todd Poitras said. "We've spread it around and it makes us dangerous. We're playing good team soccer."
With Thursday's win, the No. 19-ranked Eagles are tied at 6-1 with UC-Merced atop the Cal-Pac standings with one match to play, but Embry-Riddle holds the tiebreaker after beating the Bobcats 1-0 on Oct. 15.
La Sierra (3-8-0, 1-7-0 Cal-Pac) goalkeeper Lauren Holly recorded 14 saves, but the Golden Eagles didn't take a shot offensively all night.
NEXT UP
Embry-Riddle travels to Incline Village, Nevada, to play Sierra Nevada College in the regular season finale Saturday.
Official start time is scheduled for 1 p.m.
The Cal-Pac Conference Tournament is scheduled to begin Thursday, Nov. 10, at El Camino College in Torrence, California. The Eagles have won three Cal-Pac championships in the 17-year history of the conference.
Brian M. Bergner Jr. is a sports writer and columnist for The Daily Courier. Follow him on Twitter, Instagram, Periscope and SoundCloud at @SportsWriter52, or on Facebook at @SportsAboveTheFold. Reach him by phone at 928-445-3333, ext. 1106.
More like this story