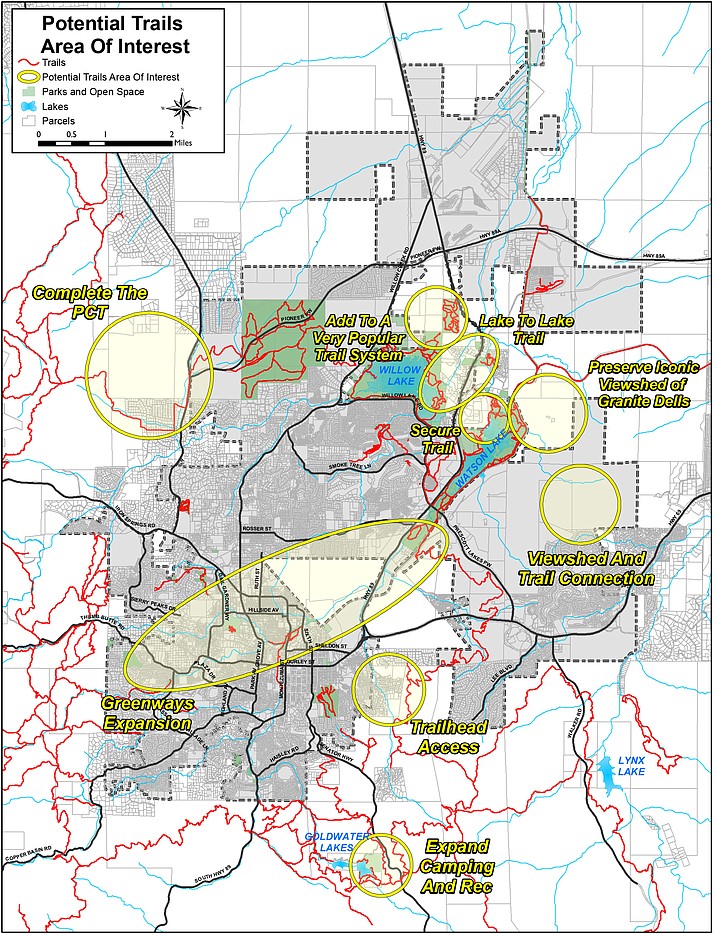 Originally Published: May 15, 2016 6:01 a.m.
PRESCOTT – A $3.8 million "open space reserve" could be among the budget categories the Prescott City Council approves with the June adoption of the 2017 fiscal-year budget.
The reserve amount is a part of the draft budget the City Council considered in its kick-off workshop on Thursday, May 12.
While this week's meeting involved little discussion on the reserve, officials say it will be discussed in more detail when the council conducts its second budget workshop on May 26.
The reserve apparently stems from an executive session the council conducted May 3. The closed-door discussion occurred after the council heard a public update from Recreation Services Director Joe Baynes on Prescott's open space program.
The money reportedly would come out of streets/open space money that was previously generated through a 1-percent sales tax. That tax ended Dec. 1, 2015, and was replaced with a voter-approved 1-percent sales tax dedicated exclusively for streets.
Prescott Budget and Finance Director Mark Woodfill reported this week that about $16 million (uncommitted) remains of the money raised through the original streets/open space tax.
Open space advocates have long maintained that the city should have spent more of the sales tax revenue on open space all along.
In 2000, when the City Council took the sales tax measure to the voters, officials estimated spending as much as $40.7 million on open space. Information from Woodfill's office indicates that the city ended up spending $16.2 million on open space, while much of the remainder of the $191.7 million in total tax revenue went to street projects.
Councilwoman Jean Wilcox, who has brought up the issue a number of times, suggested an open space reserve fund during the May 3 public session.
Mayor Harry Oberg – although he declined to talk about specific parcels, citing the confidentiality of executive sessions – said after the May 12 budget workshop that the reserve likely would go toward pending recreation priorities such as trail connectivity.
"We still need to complete the trail system, so people can go from one trail set to another," Oberg said, adding that there were also "limited land opportunities we can look at."
He estimated that, through the reserve, the city could finish its trail system within a year.
Wilcox noted that a number of property owners are interested in talking with the city about possible open-space sales, although she also declined to mention specific parcels. She added that the reserve fund would be designed to roll over from one fiscal year to another.
At previous meetings, Baynes has brought up possible projects, such as acquisition of rights-of-way through Arizona State Land to connect the Prescott Circle Trail to the Prescott Gateway Mall, and a trail on the city's side of Glassford Hill (to connect with Prescott Valley's new trail).
A map that Baynes provided during his presentation includes a number of potential "areas of interest," including Greenways expansion in central Prescott, the expansion of camping areas and recreation at Goldwater Lake, preservation of the "viewshed" in Granite Dells, and completion of a "lake-to-lake" trail between Willow and Watson lakes.
"I was really pleased to see that in the budget," Wilcox said of the $3.8 million reserve.
Approval of the reserve likely will face opposition as well. During a break in the budget workshop, Councilman Greg Lazzell voiced opposition to the plan.
"I'm not a fan of it," he said, maintaining that the streets/open space sales tax had "sunsetted" on Dec. 31, and should have ended then. He also expressed surprise that the reserve was included in the draft budget. "I thought it was just for general discussion right now," he said.
The streets/open space revenue is separate from the city's general fund, which has faced recent challenges because of rising public-safety pension costs.
After the council conducts its May 26 workshop, it will discuss the budget through June, and is scheduled to vote June 21 on final adoption. The new 2017 fiscal year begins July 1.