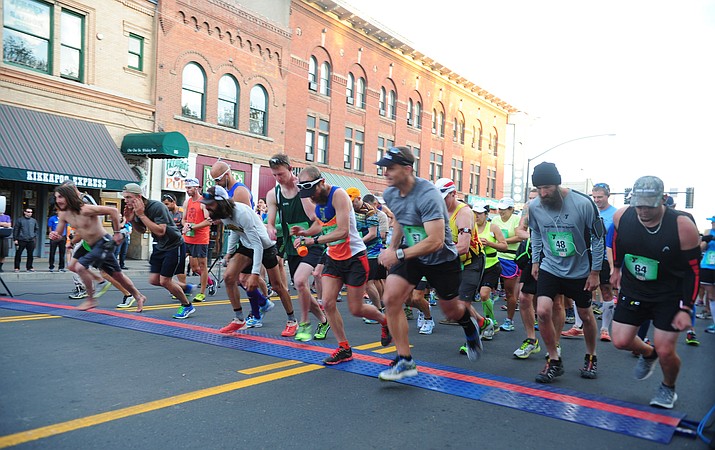 Photo by Les Stukenberg.

Originally Published: May 12, 2016 11:46 p.m.
PRESCOTT – One hundred and 75 brave souls will run the 2016 Prescott YMCA Whiskey Row Marathon, which starts at 6 a.m. Saturday, May 14, and remains among the toughest marathons in the United States.
Now in its 38th year, the popular event expects to attract a total of 1,900 runners for its marathon, half marathon (7 a.m. start), 2-mile fun run/walk (7:15 a.m.) and 10K run (7:20 a.m.).
Whiskey Row Marathon race director Laura Winniford-Hodgins said on Thursday, May 12, that 2,500 people are likely to flock to downtown on Saturday. She added that runners from 15 different states will be represented, in addition to those from Arizona and California.
Weather forecasters are calling for partly sunny skies with a high of 81 degrees and a low of 53 on Saturday. That's a little above the historic average of 76/45.
In the 2015 marathon, on the men's side, Adam Folts of Phoenix won in 3 hours, 6 minutes and 51 seconds. Folts is back to run it again this year, as is Michael Versteeg of Prescott, the 2014 champion. Versteeg was runner-up in 2015 in 3:06:55.
Versteeg said he is hoping to become the first man to complete the new Whiskey Man Challenge, one in which a competitor finishes the 88K Whiskey Basin Trail Run, the Whiskey Off-Road 50 Proof [mile] mountain bike ride and the Whiskey Row Marathon all in the same year.
Winniford-Hodgins said the Whiskey Man Challenge will officially begin in 2017. She hopes at least 10 men will accept the challenge next year.
Also running in the marathon on Saturday is Ben Paxton, the runner-up in the half marathon in 2015.
On the women's side last year, Alyssa Shaw of Coeur d'Alene, Idaho, won the marathon in 3:38:18. Cecilia Castanella of Apache Junction followed in second place (3:49:57) and Amy Hobson of Prescott, who has won the marathon five times since 2003, took third (3:52:52). As of Thursday, Winniford-Hodgins said Shaw and Hobson had not registered for Saturday's race.
In the half marathon, defending men's champion Chris Bray of Prescott will be running the race again on Saturday. Bray, Embry-Riddle Aeronautical University's cross-country coach, crossed the finish line in 1:23:54. (Drew Mumford, the Whiskey half marathon champion in 2002, still holds the course record in 1:18:29.)
On the women's side in the half marathon, Randi Simon of Prescott Valley, who placed third in the 2015 race (1:35:38), is registered once again. Simon was the women's winner in the marathon in 2012.
As for the Whiskey Row 10K's course, it will keep last year's changes intact at the request of the runners, Winniford-Hodgins said. The main component of the changes is avoiding a crossing at Park Avenue.
"They [10K runners] all start [in] the same [spot] as the half and full marathons, but between White Spar and Hassayampa Village off of Copper Basin [Road], there's a nice little neighborhood up there," she said in 2015. "So we're adding the extra additional little distance in there [to the 10K run]."
For the fourth straight year, all runners will finish the races on the Courthouse Plaza in downtown Prescott. Tables, tents, vendors and other activities will be stationed around the finish line, as will refreshments from local sponsors.
Winniford-Hodgins said several families are again running/walking the 10K this year, which is usually more common in the 2-mile run.
All proceeds from the Whiskey Row Marathon will go to benefit the Prescott YMCA's scholarship fund.
Winniford-Hodgins added that it takes about 150 volunteers and some 15 Prescott YMCA staff members to set up the marathon on Saturday.
Other notables related to Saturday's races include:
• Tanaya Gallagher of Sedona, who holds the fastest women's time in the Whiskey Row Marathon in 3 hours, 19 minutes and 38 seconds (2013), will run the half marathon on Saturday. Gallagher won the full marathon in 2008 and in 2013, when she established the record. She also won the half marathon in 2009, 2010 and 2011.
• Tony Ebarb, Whiskey Row Marathon co-founder, will run the Whiskey Row 10K on his 76th birthday on Saturday.
• Ernest Andrus, a 92-year-old from Florida, will receive the marathon's prestigious Al Clark Award for 2016.
Each year, the Whiskey Row Marathon Committee honors one runner who exemplifies some of the characteristics that best defined former resident Al Clark as a man, a runner and a friend. Clark, who passed away in 2003, was an exceptional longtime runner who started running marathons in his 50s. He became a beloved figure at the Whiskey Row Marathon.
• Prescott standout runner Rob Turpin, who ran the Boston Marathon April 18, will run the 10K on Saturday, Winniford-Hodgins said.
• Craig Davidson, 62, of Phoenix will run at the Whiskey Row Marathon again this weekend. He's run 31 total races here, including two half marathons, and has tracked his mileage since the mid- to late-1970s. He's compiled more than 200,000 lifetime miles in Prescott. Davidson's also run the L.A. Marathon since its inception 31 years ago, Winniford-Hodgins said.
• Twenty-five vendor booths will be stationed at the finish line of the race on Saturday. As is tradition, the Prescott Fire Department will park one of its ladder trucks at the starting line on Whiskey Row.
---
For more information about the Whiskey Row Marathon, visit whiskeyrowmarathon.com or call the Prescott YMCA at 928-445-7221.
Follow Doug Cook on Twitter @dougout_dc. Reach him at 928-445-3333 ext. 2039.