Photo by Sue Tone.
Originally Published: March 27, 2016 6 a.m.
Nearly 40 women veterans of the Vietnam War gathered in the Veterans Affairs (VA) Theater on Wednesday, March 16, to receive recognition of their service with a ceremony that included keynote speaker Ret. Col. Wanda Wright, director of the Arizona Department of Veterans' Services, the first woman appointed to the position.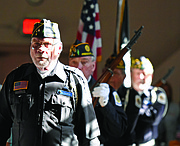 They also received commemorative pins and coins acknowledging the 50-year anniversary of the war.
Wright served five years active duty in the Air Force and 20 years with the National Guard. Gov. Doug Ducey appointed Wright a year ago. She holds two master's degrees in public administration and business administration, and is earning a third in education.
Wright told the women her father served three tours in Vietnam – when she was 2, 8, and 12 years old – each at least a year's absence. He wanted her to attend West Point, but she graduated from the Air Force Academy in 1985, one year before her father retired from a military career.
"I'm Col. Wright, number two," she said with a laugh, adding that the women who preceded her allowed her to "stand on their shoulders today." She also asked for a round of applause for the women veterans present in the room for "forging the way."
Historical markers in women's military service
1782-1783: Deborah Sampson serves more than a year in George Washington's army disguised as a man until discovery of her gender after being wounded; she receives a military pension.
1861-1865: Dr. Mary Walker becomes the only woman to receive the Medal of Honor.
1917-1918: Women are allowed to serve in the final two years of WWI, where 33,000 served as nurses and support staff; more than 400 nurses die in the line of duty.
1941-1945: More than 400,000 women served at home and abroad; 88 captured as prisoners of war.
1948: Women's Armed Services Integration Act grants women permanent status in the military and entitles them to veterans' benefits.
1950-1953: 500 Army nurses serve in combat zones during the Korean War; 50,000 serve at home and abroad.
1962-1972: 7,000 women serve during the Vietnam War, mostly as nurses, in all five military divisions.
1976: First females admitted to military academies.
1991-1992: 41,000 women deployed to Persian Gulf War combat zone; two taken captive.
1998: By now, women can fly in combat missions and serve on combat ships.
2000: Capt. Kathleen McGrath becomes first woman to command a U.S. Navy warship; she is sent to the Persian Gulf.
2004: Col. Linda McTague is first woman to command an Air Force fighter squadron.
2008: 16,000 women are serving in Iraq, Afghanistan, Bosnia, Germany Japan and other areas.
As part of her current position, Wright said she is opening two new cemeteries, one in Marana in southern Arizona, and one in Flagstaff. In the past year, she has organized four Veterans Expos that offer information relating to services, benefits, resources, financial and legal issues, guest speakers, and even a spa area for hair, nails and massages.
"The best thing about the expos is to network with other veterans," Wright said. Returning women veterans are in need of mentoring, she added. "I think they're a little lost."
She also encouraged the women to reach out to Native American veterans who often must travel great distances to receive services.
Doug Keller provided music for the ceremony, with Anna Nava singing the National Anthem and Joy Tyson leading the room in some chair yoga and relaxation exercises.
"I'm honored to be here with you today, knowing what you've gone through, and what you came back home to," Wright told the women.
Veterans Crisis Line
Veterans and their loved ones can call 1-800-273-8255 and Press 1 to talk to someone now, or send a text message to 838255 to receive confidential support 24 hours a day, seven days a week, 365 days a year.
Support for deaf and hard of hearing individuals is available.
For more information, visit veteranscrisisline.net.