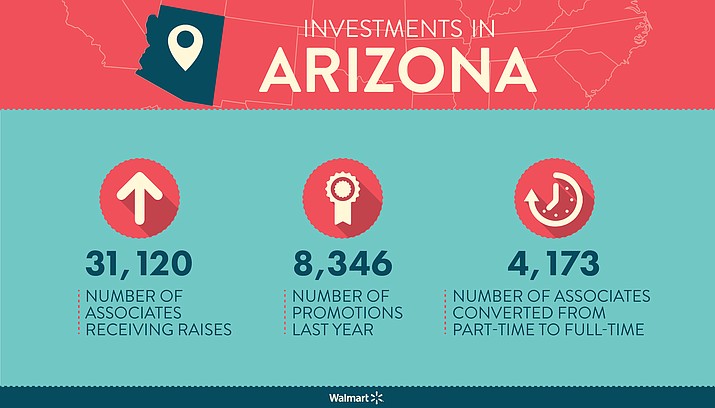 Originally Published: March 13, 2016 6:06 a.m.
Brick & Bones 'permanently' closed, for now
The owners of Brick & Bones Moonshine Bar and Bistro have announced on the establishment's Facebook page that the downtown business at 214 S. Montezuma St. has "permanently closed its doors."
This announcement comes about two months after Jimmy Savoini, one of the owners of the business, told The Daily Courier that Brick & Bones was only closed temporarily for a remodel and restructure plan.
Despite the announcement, the owner of the building, Joe Lohmeier, said that the exact fate of the business is unknown until some additional information is made clear. In the meantime, he said the business is closed and should not be expected to re-open in any capacity for at least the next few months.
Wal-Mart pay increase
More than 1,000 Wal-Mart/Sam's Club employees in Prescott and Prescott Valley recently benefited from a pay raise that was on their March 10 paycheck.
The increases were part of the company's two-year, $2.7 billion investment in higher pay, better training, clearer career paths and additional educational opportunities for its workers, according to a press release.
Throughout Arizona, 31,000 Wal-Mart employees experienced this raise and shared nearly $6 million in quarterly cash bonuses, which are based on the performance of each store.
This month's pay changes include:
All employees hired before Jan. 1, 2016, will earn at least $10/hour.
New entry-level employees hired after Jan. 1 will continue to start at $9/hour and will move to at least $10/hour after successfully completing the company's new retail skills and training program known as Pathways.
Employees already earning more than $10/hour will see their annual pay increase starting in March rather than waiting until their anniversary date.
Wal-Mart is raising the starting rate of its non-entry level hourly pay bands. Anyone earning below the new minimum will automatically move up to the new minimum.
Employees at or above their pay band maximum will receive a one-time lump sum payment equal to two percent of their annual pay.
Allie Ollie moves from mall to downtown
Allie Olson, owner of Allie Ollie, a women's fashion boutique, has decided to relocate her Prescott store from the exterior courtyard at the Prescott Gateway Mall (next to Wildflower) to downtown.
The mall location closed this week and will re-open on Wednesday, March 16, in a space previously occupied by The Raven, a bookstore and gift shop, on the first floor of Bashford Courts Atrium Mall, 130 West Gurley St.
The move comes following Wildflower's announcement to eventually relocate from the mall.
"We were picking up a lot of traffic from Wildflower," Olson said. "With them leaving, I just had to reevaluate where is best for my store."
Olson kept one of her three store locations at the mall for about seven years.
Her new location is 900 square feet of space, a dramatic decrease from the 4,500 she had at the mall.
"We're going to have to be a little more selective in our merchandise, but we're bringing in some new lines and more accessories," Olson said.
For anyone who mentions it during checkout, the new Allie Ollie store will be offering half off any one item from March 16 through the end of month.
The new location is open every day 10 a.m. to 8 p.m. and can be reached at (928) 717-1592.
Paulden getting Ace Hardware
Dave Sheets, co-owner of Chino Valley's Ace Hardware store, is planning to open another Ace Hardware in Paulden by early summer, according to reports from the Chino Valley Review.
Sheets contacted Paulden businessman Kevin Larson a couple of months ago to talk about expanding and using the building Larson owns on the southwest corner of Big Chino Road and Marblehead for his location.
Larson agreed and said he plans to spend about $150,000 retrofitting the building and making infrastructure improvements, including paving a parking lot and improving roads.
If all goes smoothly, the location should be open around June 1.
Eight years of class and sass
The Classy N Sassy Boutique is hosting an eighth anniversary celebration on Saturday, March 26 from 10 a.m. to 6 p.m.
"Party Time" is from 3 p.m. to 6 p.m. and will feature live music by Bud Tyndale, free appetizers and refreshments. They will also have a big spin wheel where customers get to spin for free merchandise and gift cards.

Owner, Linda Forbes invites everyone to stop in.

"Our parties are a ton of fun!" she said.
Classy N Sassy is a locally-owned clothing boutique that caters to women of all ages.
It's open every day. Regular business hours are 10 a.m. to 6 p.m., except on Mondays, when it closes at 5 p.m., and Sundays, when it closes at 4 p.m. It is located in the courtyard of the Old Firehouse Plaza, on the corner of Goodwin and Granite in downtown Prescott.
Pitzer's honored
Pitzer's One Hour Air Conditioning & Heating and Benjamin Franklin Plumbing recently gained the attention of the Better Business Bureau serving Central, Northern and Western Arizona. The company has been nominated as a finalist for the prestigious 2016 BBB Torch Award for Ethics.
"Our entire team is committed to providing the best service to our customers each day," said Larry Thornton, who independently owns and operates the companies. "It begins with a commitment to high ethical standards that we put into everything we do. It is an honor to be recognized."
There are five categories for the award based on company size. Pitzer's is one of the three finalists in the second largest category (51 to 150 employees). Each category has three finalists. Pitzer's is the only company out of all the finalists in each category that is based outside of the greater Phoenix area.
Thornton's team covers 44,000 square miles of surrounding area, in three different states and a wide range of climates from five different offices.
Their Prescott Valley location is at 6363 E. Copper Hill Drive and can be reached at (928) 777-8899.
Winners of the award will be announced at a banquet in Phoenix on April 6.
"Fingers crossed," Thornton said.
Follow Max Efrein on Twitter @mefrein. Reach him at 928-445-3333 ext. 1105, or 928-642-7864.