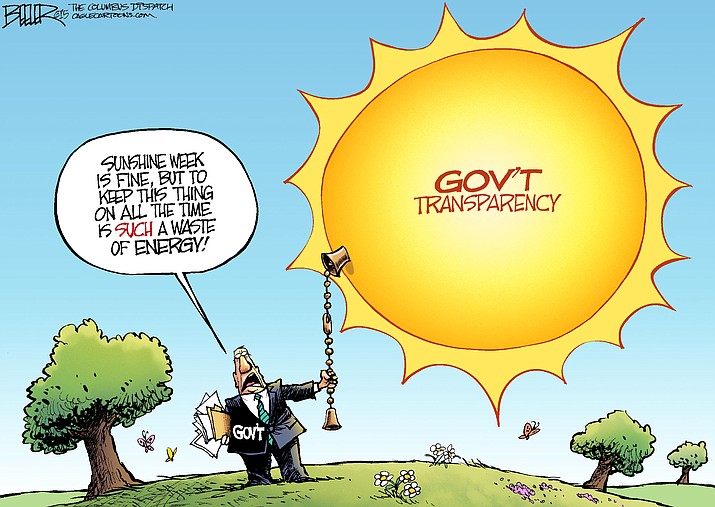 Originally Published: March 13, 2016 6:02 a.m.
Happy Sunshine Week! This is an annual celebration of access to public information. We exercised that access by publishing salaries of public officials in today's edition. Why salaries? Over the last year, whenever there's been controversy or budget cuts, readers always want to know how much that official makes. Well, here it is. We exercise our right to information nearly every day to bring you the news you need.
"The public has a right to know what their elected officials are doing, because it's the people's job to hold those folks politically accountable," said Peter Scheer, executive director of the First Amendment Coalition, a San Rafael, California-based nonprofit that advocates for greater openness in government.
You can help make Sunshine Week burn even brighter in 2016. There are endless ways to participate, regardless of whether you're part of a group or simply an individual who cares about freedom of information, according to sunshineweek.org:
• If you are in the world of journalism, you can highlight the importance of openness through stories, editorials, columns, cartoons or graphics.
• If you are part of a civic group, you can organize local forums, sponsor essay contests or press elected officials to pass proclamations on the importance of open access.
• If you are an educator, you can use Sunshine Week to teach your students about how government transparency improves our lives and makes our communities stronger.
• If you are an elected official, you can pass a resolution supporting openness, introduce legislation improving public access or encourage training of government employees to ensure compliance with existing laws mandating open records and meetings.
• If you are a private citizen, you can write a letter to the editor or spread the word to friends through social media.
Join us on this page every day this week for a new column on access to public information.
More like this story