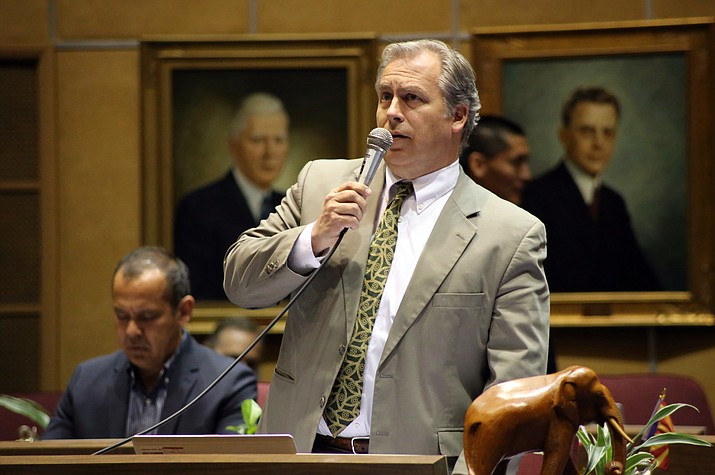 Originally Published: March 10, 2016 6:01 a.m.
Who needs "General Hospital" or reruns of "Dallas" for drama? All you need to do is follow politics. Nationally, just turn on any television station and watch the circus.
Closer to home, our own Arizona "stars" are making spectacles of themselves in Phoenix.
Center stage at the Legislature this week featured "dark money." Senate Bill 1516 eases dark money rules, when the opposite needs to happen.
Dark money describes funds given to nonprofit organizations that are allowed to receive unlimited donations that can then be spent to influence elections, all without disclosing the donors.
According to the Center for Responsive Politics, "spending by organizations that do not disclose their donors has increased from less than $5.2 million in 2006 to well over $300 million in the 2012 presidential cycle and more than $174 million in the 2014 midterms."
The funneling of funds to influence political outcomes is not new and is not native to Arizona, but Arizona representatives are sure familiar with the game.
On the surface, SB1516 is for campaign finance amendments and its purpose is stated on its fact sheet: "Repeals, reorganizes, reinserts and modifies campaign finance requirements. Contains requirements for enactment for initiatives and referendums (Proposition 105)."
Critics claim it's just a flimsy cover to make it easier to shuffle dark funds. I have to agree that it sure looks that way. Especially when officials start to make playground games of the issue.
According to an Associated Press story on the bill, "Bill sponsor Sen. Adam Driggs, R-Phoenix, tacked an additional 12 pages onto the sweeping bill he said is designed to simplify and re-organize the state's campaign finance code.
"Democrats crafted more than a dozen amendments, none of which were adopted, that attempted to increase disclosure requirements for dark money groups, retain enforcement provisions and close loopholes in candidate spending.
"'This is all about dark money,' said Sen. Martin Quezada, D-Phoenix, about one of his amendments.
'It attempts to shine some light on that money, who is spending it and why. I think this is what the voters of Arizona want us to do.'
"Quezada said his party didn't know what was going to be in the Republican amendment because the state elections director refused to share it with Democrats over the weekend.
"Driggs shot back that Democrats had not shared their amendments with him either.
"'Through this process I have been available. I have reached out to some of my friends on the other side of the aisle,' he said."
Really? We just witnessed a variation of the game "I'll show you mine, only if you show me yours."
Of course, the bill now moves to the House after passing 18-10 with just Republican support.
Here's where the dark money comes into play in this campaign finance code bill: "The most important change Driggs included would increase disclosure by requiring groups that spend more than $1,000 on ballot measures to file a campaign finance report detailing how the money was spent," reported the AP. However, it allows dark money groups to double the amount they spend on ballot measures. "It also would allow candidates to divert money given to their campaign to other candidates — a move that might result in voter donations backing candidates they wouldn't support," according to the AP report.
Matt Roberts, spokesman for the Secretary of State's office, called Quezada's complaint "palace intrigue and political rhetoric," saying the new system would make it easier for candidates to run for office, increase the frequency of campaign finance reports and add key enforcement tools.
And funnel in more anonymous money to get initiatives passed, without a thought to what residents really want or need.
Palace intrigue and political rhetoric indeed, followed by smoke and mirrors. And lots of useless drama that just doesn't help any of us.
Here's hoping the House representatives show more class than the Senate did when handling it.