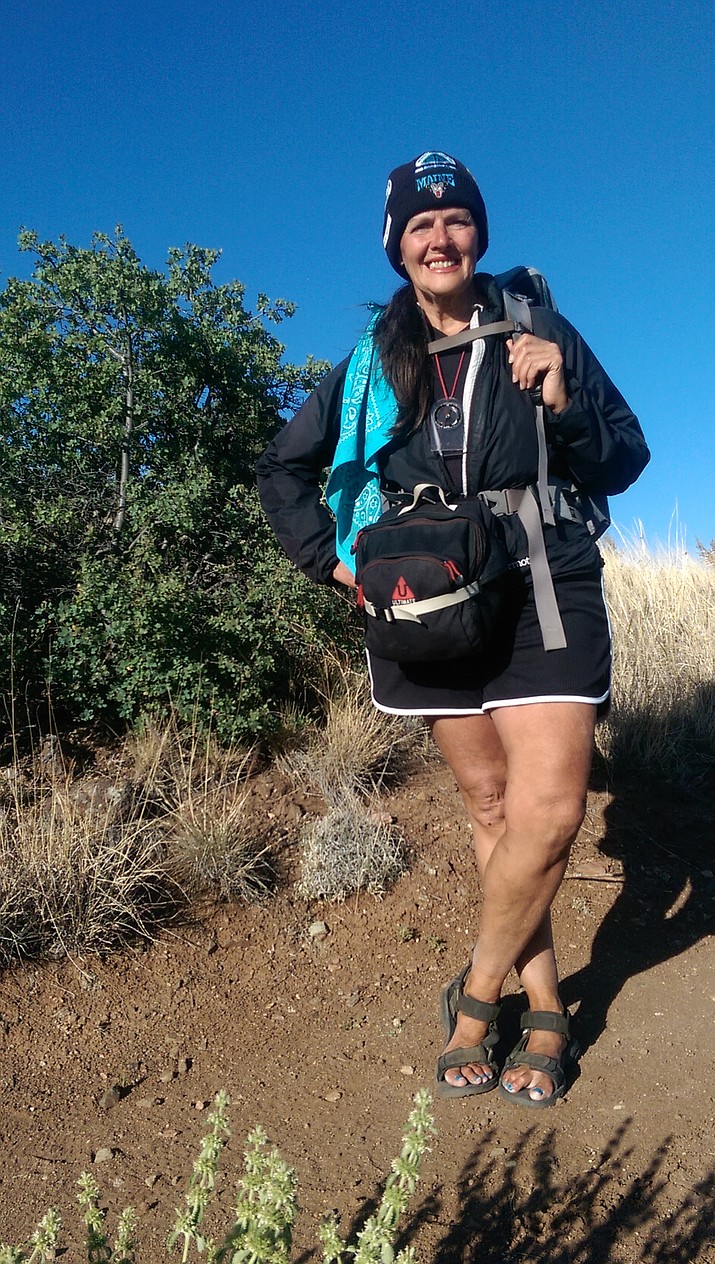 Photo by Doug Cook.

Originally Published: June 19, 2016 6:04 a.m.
PRESCOTT — Gail Lowe has made a habit of purchasing a pint of Ben & Jerry's ice cream from the nearest store after completing a long hike.
It's one of the many small things in life that Lowe, now of Prescott, cherishes. She learned this valuable lesson decades ago.
Lowe offers backpacking tips, classes in late June, early July at Gateway Mall in Prescott
PRESCOTT — Veteran hiker Gail Lowe of Prescott recommends that those who go on long-distance hikes spanning multiple days follow a few basic tips.
First, make sure your backpack weighs no more than a quarter of your bodyweight.
"I cut labels off my clothing to save weight, cut borders of paper [on maps]," Lowe said. "We are known as 'gram weenies' – measuring everything we carry."
Second, line your backpack with a trash-compactor bag, which will keep all of your items completely dry. Those items should include snacks, water, extra clothes, socks and shoes, and a bandana (for filtering water), as well as firecrackers and a Bic lighter to fend off bears if necessary.
"It's the difference between life and death," Lowe said of having the trash-compactor bag, which can't be penetrated by punishing rain and snowstorms.
LOWE'S UPCOMING
CLASSES
This summer, Lowe is offering a series of backpacking classes to the community, which will share with participants all of the secrets she has learned in her more than 18,000 miles and 25 years in the backcountry.
"These classes will teach you how to hike a mile or 3,000 miles," Lowe said.
The sessions will include her slide presentation on all three of the major long-distance trails that she's completed through the years, including the Appalachian Trail (2,200 miles), the Pacific Crest Trail (2,700 miles) and the Continental Divide Trail (3,100 miles).
Lowe said she has firmed up dates for those backpacking classes. Sessions will be conducted from 6:30-8:30 p.m. on three different Thursdays, including June 23 and 30, and July 7. All classes will be located in the Community Room at Gateway Mall off Highway 69 in Prescott.
The classes' sponsor, Manzanita Outfitters in downtown Prescott, will provide snacks and give away a door prize.
Anyone interested in the classes should contact Lowe via email at: gail@naturenymphl...
You can also learn more about Lowe's hiking history on her website by visiting www.naturenymphll...
The cost to attend the three classes is $90 per person. The course fee will also include a $10 off coupon from Manzanita Outfitters toward future gear purchases.
Lowe added that she will be offering these backpacking classes again this fall, although dates have not been finalized.
In May, the 5-foot-4, 140-pound Lowe, 66, hiked the circumference of the recently-completed Prescott Circle Trail with a 30-pound pack strapped to her back. Afterward, she didn't forget the ice cream, and she surely remembered what brought her to this point in her life.
"I'm so grateful to be this age and do what I'm doing," Lowe said after the hike from the Walmart at Prescott Lakes Parkway, where she would later buy her customary ice cream. "I'm proud of that."
A native of Detroit who recently became a resident here, Lowe worked in the medical field for 30 years. During her first year or two on the job, Lowe recalls the agony of witnessing patients die. That's when she truly grasped the preciousness of life and discovered what would become her passion – long-distance trail hiking.
Hiking has allowed her to see the natural splendor of North and Central America. In 1991, Lowe completed her first ultra-hike, hiking all 2,200 miles of the Appalachian Trail in six months.
"After that, I was hooked," Lowe said. "It's still my favorite trail. It's one of the toughest trails."
Twenty-five years and 18,000 miles of wear on her legs, back and body later, Lowe is still at it – hiking by herself in harmony with nature.
Lowe feels a spiritual, mental and physical connection when she's on hikes. And although she's not religious, she's "closer to a higher power" on the trail.
"Once you do a long-distance hike, it's a life-changing experience – getting away from your job and bills," Lowe said. "You have a sense of freedom and it hooks you. From that point, all you want to do is hike."
LONG-DISTANCE LABOR OF LOVE
Lowe has completed five long-distance hikes, including the Appalachian Trail (twice! – 1991 and 2011), the Continental Divide Trail (grizzly bear country! – 2015), the Pacific Crest Trail (2,700 miles from Mexico to Canada! – 2008) and the North Country Trail (North Dakota to the New York/Vermont border! – 2014).
She became the first woman to complete the North Country Trail, a 4,600-mile trek which took 8-1/2 months to finish. The Continental Divide Trail extends 3,100 miles, from Mexico to Canada. Lowe said she's the only American woman to hike all four of the continent's longest trails.
Lowe added that the Appalachian Trail back East is nearest and dearest to her heart because it's "extremely well cared for, maintained and marked," complete with "spectacular views and a lot of water and shelter" within a day's hike. (She spent three years researching the trail.)
On the 20th anniversary of her Appalachian Trail hike, in 2011, she duplicated the feat, hiking from Springer Mountain in Georgia to Mt. Katahdin in Maine.
"I consider this an extreme sport – carrying 30 pounds for six months," Lowe said.
Those long-distance hikes indicate her skill and ability, but they don't define her. Lowe has climbed Mt. Fuji, the tallest mountain in Japan at 12,389 feet; hiked some in the Brooks Range, which stretches 700 miles from west to east across northern Alaska and Canada's Yukon Territory north of the Arctic Circle; hiked the length and width of Michigan on the North Country Trail and the Shore to Shore Trail, respectively; and climbed Mt. Whitney in California, the highest point in the contiguous U.S. at more than 14,500 feet.
In the full grip of Mother Nature, contending with the sun, wind and precipitation for so many days and weeks, it makes one wonder about her interactions with wildlife.
"I've had a lot of encounters with deer, bears, snakes and goshawks," Lowe said.
Through the years on these hikes, Lowe has been struck by lightning; nearly drowned; broke her left ankle (on the Pacific Crest Trail, although she still made it to Canada); and almost died from hypothermia in Wyoming.
"I do not quit," she said. "I'm here because I'm lucky, and I'm backcountry savvy."
PRESCOTT CIRCLE TRAIL
Lowe spent 2-1/2 days in May traversing the Prescott Circle Trail, a network of the area's finest non-motorized trails. She hiked the 54-plus mile loop around Prescott, which extends across 11 different map segments, albeit not in order.
Beginning at a trailhead behind the York Motors dealership off Prescott Lakes Parkway, she hiked in a clockwise direction.
"I started in the middle [of the Circle Trail] and went from there," she added.
In addition to the essentials – food, water, extra clothes, etc. – Lowe toted maps of the trail's segments and a copy of local Nigel Reynolds' book, "Guide to the Prescott Circle Trail," which the Prescott Chamber of Commerce "graciously provided" to her. She also wore a manual compass around her neck.
Lowe said she enjoyed "looking down on my new favorite city in the world from every vantage point," whether she was gazing at Thumb Butte or 'P' Mountain, among other landmarks. On the hike, ecological zones include scrubs and desert plants, pines (junipers and ponderosas), and exposed desert.
"Thumb Butte was a highlight, and I had a gorgeous view of Granite Mountain and the forested areas," she added. "It was a learning experience for me."
Spanning three consecutive days, she walked 15 miles the first day, 22.5 miles the second day, and 18.3 miles the third day for a total of 55.8 miles. On the first night, she arrived at a point just past Goldwater Lake south of town and camped by a pool of water.
"I got turned around a couple of times – it [Circle Trail] needs more signage at the trail junctions," Lowe said. "But it's one of the best designed trails I've ever hiked."
The third day was probably the most challenging because she hiked on sections with little to no shade, including one difficult stretch from Williamson Valley Road to Embry-Riddle Aeronautical University in north Prescott.
"It was scrubby and citified, but that's not a complaint," she said.
Lowe added that she saw more flora than fauna, including a flowering, 12-foot-high Perry's Agave cactus before she hiked down Williamson Valley Road.
Lowe's biggest concern was remaining hydrated. She packed two liters of water for the first day, which she said was "just enough." She found a hydrant at White Spar south of town and packed four liters (eight pounds) of water for the second day.
"You have to plan your water stops carefully," Lowe added.
She makes this a cautionary tale because when there's wind on a hot day, for example, a hiker can get sunstroke without knowing it. In those conditions, Lowe eats a salty snack and drinks plenty of water to avoid depleting her body of electrolytes.
SHIFTING FOCUS
Lowe, who has been retired for the past four years and has suffered from Chronic Fatigue Syndrome since age 35, hasn't completed a longer-distance hike in a year. Lowe understands the commitment and grueling training necessary.
In 2013, Lowe's life changed when her daughter Rebecca passed away from breast cancer. She hikes in her honor.
"Since my daughter died I want to be around people more," Lowe added. "I've still got a passion for hiking."
In retirement, Lowe wants to reach out to her community as a professional motivational speaker to share her myriad experiences in ultra-hiking. She gives presentations on hiking and backpacking to colleges, high schools, middle schools and hiking clubs.
"I realize that my time doing long-distance hiking might be short-lived," Lowe said. "I want to pass it on. I'm willing to talk to any age [group]."
Lowe had a DVD produced, titled "Amateur to Ace," which teaches people how to hike effectively. It's a three-disc set which takes viewers through the progression of being an amateur, an apprentice and an ace. (Copies are available online at www.naturenymphllc.com)
"It's everything I've learned over the past 25 years – distilled," Lowe said of the DVDs' benefits. "It has all my secrets."
Lowe moved to Prescott after she had housesat in nearby Paulden for a couple in their 70s. She grew fond of the Courthouse Plaza in downtown Prescott, which has a Midwestern charm about it.
"I love the square – I have found my home," Lowe said. I have walked the entire country and never found it until I came to Prescott."
In the end, Lowe is grateful for the lessons she learned while working in the medical field. They were lessons that led her to hiking. This fall, she plans to hike Granite Mountain in Prescott and Humphreys Peak (highest point in Arizona at 12,600 feet) in Flagstaff.
"Whatever you want to do, do it now," she said, moments before heading for the freezer aisle at Walmart for her customary pint of Ben & Jerry's.
"Hiking fit me like a glove; there's not a better hobby than that. I want to make that same impact on other people – following your passion."