Originally Published: June 17, 2016 6 a.m.
The day started with Cordes Lakes Post 122 posting the flags on the Avenue of Flags at Henry Cordes Park. Many people are unaware of Flag Day, but this year the activities were many and varied.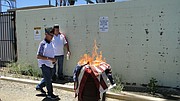 The next event was sponsored and hosted by Dewey-Humboldt Post 78 with participation from Cordes Lakes Post 122 in the retiring of worn flags. This is a solemn ceremony with specific functions performed prior to the retirement of the flags. It was conducted by Tim Klein, First Vice Commander; Dusty Salmans, Commander; Jim Hosner, Second Vice Commander of Post 78, and Chuck Leon, Finance Officer of Post 122.

Once the formalities were concluded the group moved outdoors for the burning of the retired flags. This is done to prevent worn flags from being reused or abused and allowing them a formal and dignified retirement.

Post 78 Auxiliary then hosted a luncheon for all in attendance. This allowed time for conversation as well as eating. A perfect end to a perfect retirement ceremony.
More like this story