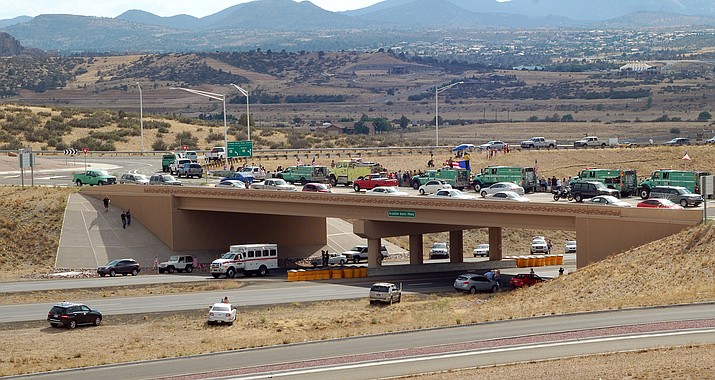 Photo by Tim Wiederaenders.
Originally Published: June 13, 2016 1 a.m.
Updated as of Monday, June 13, 2016 6 AM
A movie based on the Granite Mountain Hotshots is set to begin filming in New Mexico this week, and is expected to be released worldwide in September 2017.
A Friday, June 10, news release states that the feature film "Granite Mountain" (previously known as "No Exit") will start production today, June 13. Filming will take place in Santa Fe, Pajarito, White Rock, Nambe Pueblo, Los Alamos, Las Vegas, and Pecos, New Mexico.
Movie representatives did not respond to questions on whether filming would also occur in Prescott or Yarnell, the community in which 19 members of the Granite Mountain Hotshot crew died fighting the Yarnell Hill wildfire on June 30, 2013.
The film will star Academy-Award nominee Josh Brolin, Academy-award winner Jeff Bridges, Academy-Award winner Jennifer Connelly, and actors Miles Teller, Taylor Kitsch, James Badge Dale, and Andie McDowell.
It will be directed by Joseph Kosinski, who previously directed "Oblivion" and "TRON: Legacy." The script was authored by Ken Nolan ("Black Hawk Down," "Transformers: The Last Knight") and Eric Warren Singer ("American Hustle," and "Splinter Cell").
The news release states that the movie will be "based on the real-life Granite Mountain Hotshots, a local municipal firefighting squad that grew, against all odds, to become an elite group of wildland firefighters that courageously battled one of the worst wildfires in history, the Yarnell Hill Fire, to save an Arizona town.
"This story of brotherhood and camaraderie gives an intimate look into their everyday lives, personal sacrifices, and most heroic moments."
The production will use the actual vehicles that the Granite Mountain crew used in their work. Prescott Fire Chief Dennis Light said this past week that the movie has leased four City of Prescott vehicles – two Hotshot buggies, a superintendent vehicle, and a pick-up truck – used by the Granite Mountain Hotshots.
The vehicles were leased by the movie production for 90 to 120 days at $45 per vehicle per day, Light said.
In early March, a representative of Black Label Media told The Daily Courier that the movie – then called "No Exit" – was in development and could be up and running soon. Locations were not yet known at that time, although movie representatives reportedly had visited Prescott.
This past week, the city's economic development department had yet to receive an application for a permit to shoot within city limits.
The news release notes that "Granite Mountain" will employ 190 New Mexico crew members, 40 New Mexico actors, and about 1,300 New Mexico background talent. It is expected to film in New Mexico from June through early September.
The film will open in theaters Sept. 22, 2017, and will be distributed worldwide by Lionsgate Summit Entertainment Label, according to the news release.
The Granite Mountain Hotshot crew, a part of the Prescott Fire Department, was sent to Yarnell in southwest-Yavapai County to battle the June 2013 wildfire. Along with the deaths of 19 of the crewmembers, the wildfire also destroyed 129 Yarnell- and Peeples Valley-area homes on the west side of Highway 89.