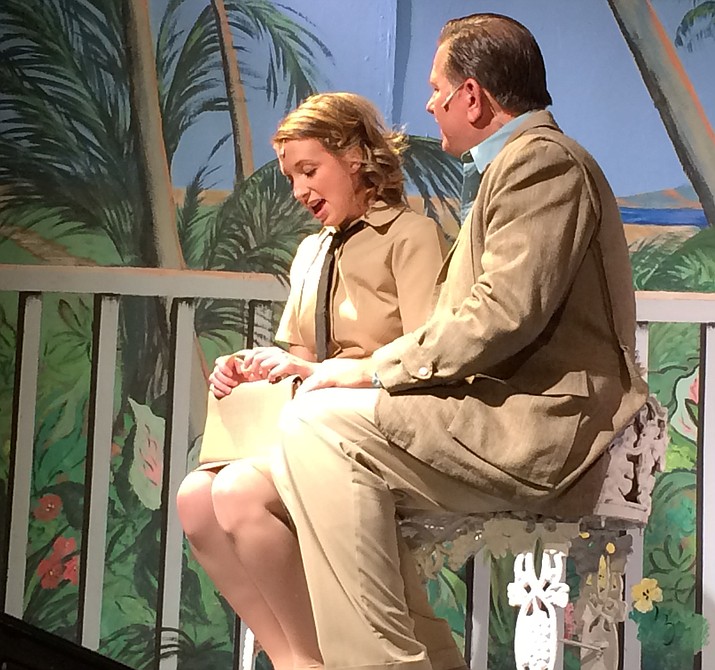 Photo by Scott Orr.
Originally Published: June 12, 2016 6:36 a.m.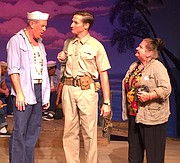 Essentials
What: "South Pacific"
directed by Frank Malle
Online: pca-az.net
Tickets: $14 - $23
When: June 10, 11, 16, 17, 18, 23, 24 and 25 at 7 p.m.; and June 12, 19 and 26 at 2 p.m.
Where else but in a Rodgers and Hammerstein musical can you find a May-December romance, a dealer in shrunken heads, a Seabee who schemes to get hold of boar's teeth (and falls out of an airplane), a love affair cut short by death in combat, and a Thanksgiving pageant, all viewed through the lens of the characters' racial prejudices?
Those are just some of the elements of the 1949 show, "South Pacific," based on James Michener's book, "Tales of the South Pacific," being staged this month at Prescott Center for the Arts.
This musical, with its colorful sets and costumes and memorable characters, has become a perennial favorite among theater companies and audiences alike.
The plot is well-known; set on an island in the South Pacfic during World War II, it centers on Nellie Forbush (played by Caitlin Burd), the young U.S. Navy nurse from Arkansas who falls in love with older French ex-pat Emile de Becque (Scott Neese), a man with two half-Polynesian children.
Another love affair goes on between U.S. Marine Lt. Joseph Cable (J. C. Lawler) and a Tonkinese woman (Zoe Walthers) who lives on a nearby island that the leader of a group of Seabees, Luther Billis (Greg Fine), desperately wants to visit.
There are familiar songs, like "Some Enchanted Evening," "I'm Gonna Wash That Man Right Outta My Hair," and "A Cockeyed Optimist" throughout.
Surprisingly, this big musical is director Frank Malle's first. He handles the large cast impressively, and doubles just one actor in two roles. They're a strong group of performers.
"They were all troupers, so dedicated to their craft," Malle said. "It's been a long haul, but tonight's the payoff."
Burd, in her second PCA production, perfectly captures the naïve spirit of Forbush, as she falls in – and out of, and in, and out of, and back in – love with de Becque, who is old enough to be her father.
Burd is spot-on throughout, showing a wide range of emotion, drawing the audience in. She's a strong singer, and you'd never guess that it was a challenge for her.
"I took a lot of voice lessons," she said. "Liz (Riley), our music director, helped me a lot, and I also got a voice teacher on the side, and it all worked out."
Neese has impressive pipes, too, and shows them off in songs like "Some Enchanted Evening" and "This Nearly Was Mine."
"Being able to sing those songs, definitely," was why Neese said he wanted to be in this show. "Baritones dream of singing this role."
In fact, the only minor flaw in this production is the use of visually intrusive, and unnecessary, microphones on the actors' faces. This cast seems to be powerful enough to be heard in the second and third balconies, if the PCA had them, without sound reinforcement.
But that is a minor quibble. This is a solid production that will happily take you back in time to the era of Big Musicals, and have you singing along as it does.