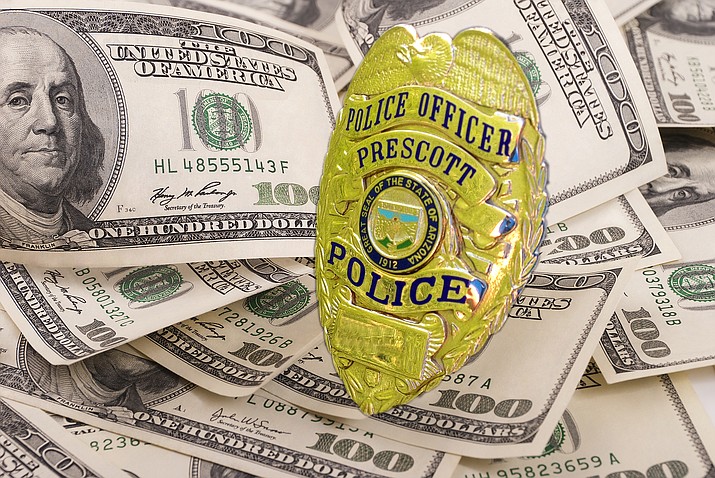 Originally Published: June 1, 2016 6:01 a.m.
'Who … is going to want to work for Prescott when they can go to Prescott Valley and make $5 an hour more?'
PRESCOTT – The Prescott Police Department is facing recruiting and retention troubles, while officers who have left the force talk of cost-of-living, morale issues, and lack of support from the city itself.
Outgoing Police Chief Jerald Monahan has explained the issues to the Prescott City Council, stating the Police Department faces a challenge in attracting and retaining experienced officers because of the lack of raises and overall lower pay.
"The issue of pay raises has impacted Prescott for some time," Monahan said, pointing out that the department has five or six officers who are still working at the first step in the city's pay scale.
Following is a look at area law enforcement departments' personnel status:
Prescott Police Department
Starting pay: $20.51/hour
"Retention of sworn officers is, in fact, an issue, with an approximate 16 percent turnover in that particular area," Deputy Chief Amy Bonney said.
Aside from the loss of institutional knowledge that occurs when an officer leaves, there is a large expense (and time expenditure) that comes with bringing new officers onto the force.
"The total approximate cost to get someone to solo status as a police officer can be as high as $100,000. That includes the fees for the background process, uniforms, training, salary, (and) equipment for them as well as their trainers," Bonney said, and they will spend six weeks going through the qualification process, 20 weeks at the police academy, and at least 16 weeks in the field with a training officer.
The problem of turnover could be addressed by the so-called "Market Pay Plan," which would re-align salaries so that Prescott's are comparable to other similarly-sized Arizona agencies.
"We are hopeful that the implementation of the classification and compensation package will enhance our retention and continue to allow us to recruit highly motivated and enthusiastic public servants who are dedicated to this community and the City of Prescott," she said.
Prescott Valley Police Department
Starting pay: $20.50-$28.69/hour
"Although some agencies have had difficulty attracting applicants, we have been and continue to be successful in our recruiting efforts," PVPD Sgt. Jake Jackson said. "We continue to be a step ahead of the game due to good planning and a great relationship with our community.
"One of the reasons we do not have trouble recruiting is our progressive attitude towards growth and the development of our personnel. Our pay and benefits are among the best in northern Arizona."
Jackson said several factors contribute to the positive environment at PVPD, among them:
• The Community Policing program, which he said was "not a buzz word" but truly different;
• A mentoring program for new officers; and,
• Diversity. "We strive to engage every member of our community through a diverse work force that is representative of the people we serve," he said.
"We have 11 recruits starting the August academy class at NARTA (Northern Arizona Regional Training Academy). This will be the largest amount of recruits that Prescott Valley Police has ever sent to one academy class," Jackson said.
Chino Valley Police Department
Starting pay: $20.91/hour
"We recruit as heavily as we can, and not just locally, but outside the area and state," said CVPD Lt. Vince Schaan. "We are currently training lateral candidates from Colorado and California and have two newer officers, one from California and one from Ohio."
Schaan said the department has had "some turnover in the last several years," because of retirements, moves to other law enforcement agencies, or career changes.
Yavapai County Sheriff's Office
New academy graduates' starting pay: $18.98/hour; increases to $20.78/hour after completion of field training.
Spokesman Dwight D'Evelyn said recruiting has been "fairly successful," and added that "we get quite a few applications on an ongoing basis."
The YCSO is picky, he said. "A majority may be disqualified in the background stage. Reasons include too many law enforcement contacts, prior drug usage and lying. A person's integrity is a factor considered throughout the process."
The Sheriff's Office also has its own farm team of sorts: It can move up detention officers from the jail, and is doing just that with seven of them in the next police academy class.
"We occasionally will lose deputies to the private sector in part, due to higher salary opportunities. Turnover can involve and employee's transfer to a neighboring law enforcement agency or retirement," D'Evelyn said. "On the other hand, we sometimes recruit currently certified officers from area agencies – including some from out of state."
He pointed out that with varied special units, such as PANT (Partners Against Narcotics Taskforce), and GIITEM (Gang and Immigration Intelligence Team Enforcement Mission), varied patrol areas in an 8,200-square-mile county, and a stipend for deputies who cover remote areas, all are incentives for deputies to stick around.
Two officers' perspectives
The Daily Courier spoke with two former Prescott Police officers who left within the last year and are now working with other agencies. They each agreed to answer some questions, but didn't want to be identified because they are still employed as police officers.
"Officer A" said a major reason for leaving was a lack of support from the City Council, which has led to a morale issue and pay crisis. "For me, I mostly left because of lack of support from the city leadership. From the top down, to the City Council members, the Mayor himself, showing no concern for officer safety by allowing the department to become so understaffed … it prolongs response times, it puts officers in danger."
This officer started five years ago, at $20.51 per hour and was, upon leaving, making $21.50 per hour. Simply walking in the door at their new police department, which is in Arizona, meant a $12 per hour raise.
"Pine trees don't pay the bills," the officer said. "It is a beautiful place to live, and given the option, would we rather live in Prescott or down in the Valley? I think 99 percent of us would say Prescott, however, it's simply impossible to raise a family off an officer's salary.
"Ten-year officers nearly qualify for food stamps," said the officer, who has a family and did qualify for food stamps.
"Meanwhile, Prescott has the highest cost of living," which, the officer said, causes "70 to 80 percent" of officers to live outside the city.
"In the last three years, Prescott PD has lost over 30 officers. And they (the City Council) are just now to trying … to rectify this issue," and noted that the figure is essentially half the force.
"There are quite a few more that are following (us) out the door."
---
"Officer B" said the move was prompted by uncertainty and low morale. "It was getting kind of shaky … people were worried about the (0.6-cent public service sales) tax passing this coming November, people worrying about the fact that we were already at pretty low numbers (of officers) which is a safety issue," Officer B said, and while this officer received a substantial raise by moving to another department, "I didn't want to leave. I really loved living there. I loved the people."
The officer said, "I needed the opportunities that I had originally hoped to take when I came to the department" to work special assignments, but those did not look promising.
They "might be going away or decreasing, especially since our numbers were dropping so quickly, and they were starting to make emergency plans for when our numbers went critical."
Morale dropped even lower because the officers "looked to our leaders for answers, (but) we didn't get any answers, or any good guesses, really. That was almost worse than getting bad answers."
Police Chief Monahan declined comment for this story, other than to say, "Hopefully, the new chief can turn morale around. I wasn't able to do so."