Originally Published: July 19, 2016 9:14 a.m.
Photo Gallery
Illegal Marijuana Grow Operation Shut Down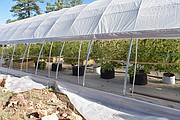 After a two-year investigation, authorities in Northern Arizona shut down an illegal grow operation in Happy Jack – Blue Ridge, Ash Fork and the Ash Fork – Crookton area that was selling and distributing marijuana across the country.
ASH FORK – State detectives, federal agents and local law enforcement shut down a marijuana grow operation and made several arrests on July 7, 2016, in Happy Jack – Blue Ridge, Ash Fork and the Ash Fork – Crookton area in northern Arizona, according to a DPS press release.
During the two-year investigation, authorities discovered that the illegal enterprise, based out of Flagstaff, was selling and distributing the marijuana harvested to contacts across the country.
Authorities arrested Antonino M. Compau, 22, from Flagstaff, Niccolo T. Compau, age 20, from Flagstaff, and Kathryn Miller, 23 from Ash Fork on criminal charges related to the cultivation of three large marijuana crops, drug possession, drug transportation, drug sales, firearms, drug paraphernalia and marijuana cultivation equipment and conducting an illegal enterprise.
The two-year investigation and subsequent operation was conducted by the Coconino County Narcotics Unit which is overseen by the Arizona Department of Public Safety. Assisting DPS was the U.S. Drug Enforcement Administration (DEA) with their Clan Lab Unit and special agents, Flagstaff Police Department and the Coconino County Sheriff's Office.
Assistant DPS Director and chief of the Criminal Investigations Division, Lt. Col. Ken Hunter, said, "Drug trafficking organizations pose a significant threat to the safety of all Arizona citizens. The Department's Criminal Investigations Division works tirelessly to dismantle criminal organizations. This investigation is one example of law enforcement leveraging federal, state, county and municipal resources to arrest criminals that are exploiting Arizona as a hub to distribute contraband and negatively affect communities throughout the United States."
"The successful conclusion of this long term investigation is demonstrative of the strong partnerships DEA maintains with all law enforcement in Arizona," said Doug Coleman, Special Agent in Charge of DEA. "Our agents, with our law enforcement partners, will continue to identify, target and dismantle drug trafficking organizations of all levels, who exploit rural areas to conceal their illicit activities."
More like this story