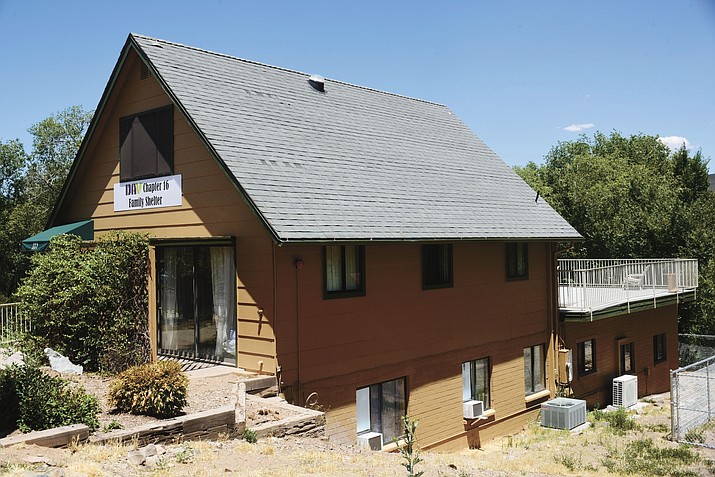 Photo by Les Stukenberg.

Originally Published: July 16, 2016 6:08 a.m.
PRESCOTT – Prescott Area Shelter Services Bobbi Leverich wants to do more than offer emergency shelter to homeless women, children and families.
She wants to connect them to permanent homes so they don't need long-term shelter.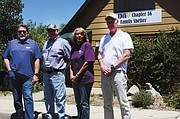 The Disabled American Veterans chapter has been seeking a suitable location to open a day center for the homeless, and create additional permanent housing to homeless veterans.
In an expansion on an already-existing partnership, the two non-profit entities have found a way to achieve both visions.
"With what we're trying to do, the community wins in a couple of ways," Leverich said of the family shelter home that PASS has managed after the DAV purchased the facility almost four years ago.
The new center will give the homeless a place to go so they are not loitering in places where people do not wish them to be, and it offers a chance to help those on the precipice of homelessness transition into permanent housing so that long-term shelter is not required, she said.
"Permanent housing is the answer to everything," Leverich said, noting federal housing dollars are now aimed at permanent housing solutions rather than emergency shelter.
By the end of September, DAV Commander Richard Null said the organization intends to re-purpose the main floor of the now seven-room, three-story family shelter on Rush Street into a day center where veteran and non-veteran homeless men and women can come and take a shower, wash their clothes, use a computer, participate in some life skills classes, as well as connect with other social service resources and potential housing opportunities. The upper floors will be remodeled into rental apartments for between two and four homeless veterans. The DAV will relocate its office from its thrift store on Fifth Street into this facility located across the street from PASS' 19-bed emergency shelter for women and children.
The playground will remain for the use of children at the emergency shelter.
Null said costs are expected to be nominal as the remodeling required is fairly modest.
The DAV wanted to find another downtown property for the center, but rental costs proved prohibitive.
"This is very timely," Null said. "We feel very comfortable with their mission, and look forward to working with PASS in other endeavors."
The DAV already operates a permanent housing project for four veterans on Tiburon Drive.
The Coalition on Compassion and Justice just this year started Second Chance Housing, a program that enables homeless individuals to reside in refurbished, donated recreational vehicles. To date, the program has received eight trailer donations; six are occupied.
Leverich said these are the initiatives that will eventually end homelessness.
For those who fear the new center will leave homeless families with nowhere to go, Leverich assured her plan is all about thwarting homelessness, not creating more of it. There are now two families living in the family shelter, and both will be moving into permanent housing within the next two weeks, Leverich and Null confirmed.
In the future, Leverich said families in need will be welcome at the emergency shelter; males, though, will have to use the local men's shelter.
Ultimately, though, Leverich's intent is to work with her non-profit partners targeting homelessness in Yavapai County to eliminate the need for long-term shelter by having a plentiful supply of affordable apartments where they can settle rather than just get a bed for a few weeks or months. She, too, wants these families to have built-in support services so they stay housed.
In her native Austin, Texas, Leverich not only was involved in finding solutions to homelessness but held a real estate license that enabled her to be part of rehabilitating 25 properties into permanent, supportive housing for homeless clients. She intends to do something similar here.
"Wouldn't that be a wonderful world?" Leverich said of offering long-lasting affordable housing and case management to families. "This just has to happen. Whether we rely on grants, a larger donor, or we turn to the government. We're going to make this happen."
More like this story