Originally Published: July 9, 2016 6:02 a.m.
Rumors of a Sprouts Farmers Market opening in Prescott have been confirmed.
Prescott's Historic Preservation Specialist, Cat Moody, made the official announcement during a regular Prescott Preservation Commission meeting on Friday, July 8.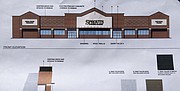 "Sprouts is going to be redeveloping the site in order to open a grocery store," Moody said.
The site she was referring to was last occupied by Haggen Food & Pharmacy within the Depot Market Place in downtown Prescott. Haggen closed that location in early December after being open for only six months.
Architects contracted by Sprouts have already started work on their plans for the building. They intend on remodeling the exterior and completely gutting the interior to insert the grocery store's newest layout model.
"Demolition is starting here in a couple weeks or even less," said Chris Jarvis, project manager with Fitch, the retail and brand consultancy firm hired out of Scottsdale by Sprouts for this Prescott job.
Jarvis said Sprouts hopes to be up and running in the location by March 2017.
"At first they were thinking January, but just with the amount of drawing and whatnot, we just can't do some of the phases that fast," Jarvis said.
Planning Manager for the City of Prescott, George Worley, said that from a planning perspective, this is an ideal tenant for the location.
"The shopping center, the building itself, its location in downtown, it all makes sense for a user like this," Worley said. "[Sprouts] is very stable. They're growing, but moving very slowly… so they're not going to outgrow themselves."
During the Preservation Commission's meeting, commissioners couldn't help but voice their exuberance in hearing this news.
"I couldn't be more excited about this," Commissioner Christy Hastings said. "This was my neighborhood grocery store… so this is going to change my life."

"Architecturally, I think it's wonderful," Commissioner David Buttke said to Jarvis during the meeting. "Tenant wise, I'm going to be saving a lot of driving time myself, because I'm a fan of Sprouts and am glad that you guys are moving in there."