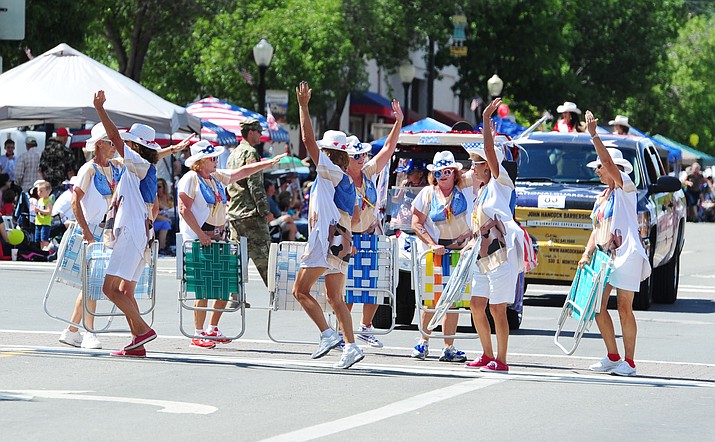 Photo by Les Stukenberg.

Originally Published: July 3, 2016 6:02 a.m.
The threat of rain and thunder early Saturday morning, July 2, didn't stop Mike Heffley from setting up his family's lawn chairs for this year's Prescott Frontier Days Parade at 2 a.m.
Winners of Prescott Frontier Days Parade listed:
Winners in the Prescott Frontier Days Rodeo Parade on Saturday, picked from 158 entries, are:
• Commercial Horse Drawn – Hensley-Budweiser
• Commercial Motor Float/Political – Asphalt Paving and Supply
• Featured Rider/Mounted Group – Granite Mountain Riders
• Fraternal/Church/Nonprofit – Prescott Regulators & their Shady Ladies
• Non-commercial Horse Drawn – Diamond Z Shires with the Prescott Frontier Days Board of Directors
• Non-commercial Motor Float – Yavapai County Search & Rescue Team
• Royalty/Best Costume – Prescott Frontier Days Royalty 2016
• Traveling Music/Band – Pride of Prescott Band
• Vintage Vehicles – Prescott Antique Auto Club
• Walking Group – Granite Mountain Young Marines/Copper State Detachment/Marine Corps League
• Judges' Trophy, Judges' Favorite – Prescott Ladies Kazoo & Lawn Chair Auxiliary
• Chairman, Best All-Around Entry – Cabalgando X Arizona
The parade committee included Bill Oden, director; Debbie Tuttle, parade chairman; and Katrina Salinas and Amanda Johnson, parade assistant chairmen.
"We do it every year," Heffley said. "This is the best little country parade."
Heffley is not alone in his devotion.
Like clockwork, tens of thousands come out annually to enjoy Arizona's second largest parade. Many are locals, but many also travel quite a distance to enjoy the festivities both during and after the procession.
"I'm from San Diego, California," said parade spectator Wayne Simnitt. "I like to come to these country western festivals and I like to dance. That's why I'm here."
This year's parade took place on what turned out to be a bright, sunny day and had 158 entries. Military veterans, horse outfits, local businesses, non-profits, city councilmen, area law officials and more all walked or rode around the parade route in their own creative fashion.
The theme this year was twofold, but related. Because country music artist Tanya Tucker agreed to be this year's Grand Marshal, one part of the theme was "Let your Voice be Heard," a play on Tucker's song "I Still Hear Your Voice." The second part was "Vote, it's the American Way!"
"Since it's a political season, we thought we'd make it known that's what people should do," said Debbie Tuttle, parade chairman.
In light of this, floats advertising any and every public official up for election made their rounds with the rest of the entries.
Tucker was coaxed to Prescott for all the excitement by her age-old friends Margo and J.C. Trujillo, general manager of the "World's Oldest Rodeo."
"J.C. called out of the blue and mentioned coming out here, so I thought, why not?" Tucker said. "It's like coming home for me anyway, cause I'm an Arizona girl really. I was born in Texas but raised in Arizona."
Another special guest at this year's parade was Jeb Rosebrook, the screenwriter for Junior Bonner, a western drama film about a middle-aged rodeo rider. The movie was filmed in Prescott in 1971 and starred Steve McQueen.
"My friend, Keith Woods, calls it Arizona's Fourth of July movie, and it's true," Rosebrook said.
Photo Gallery
Prescott Frontier Days Parade 2016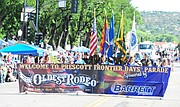 Featured as the Honorary Grand Marshal, Rosebrook waved to parade spectators while cruising around in a classic American muscle car. Rosebrook was a co-Honorary Grand Marshal about 20 years ago as well.
Overall, the parade was a complete success, Tuttle said.
Only those who have attended the parade in recent years may have noticed one thing missing.
"We typically have some local boys do a flyover for us at the start of the parade," Tuttle said. "They were unable to do it this year due to a scheduling conflict."

More like this story