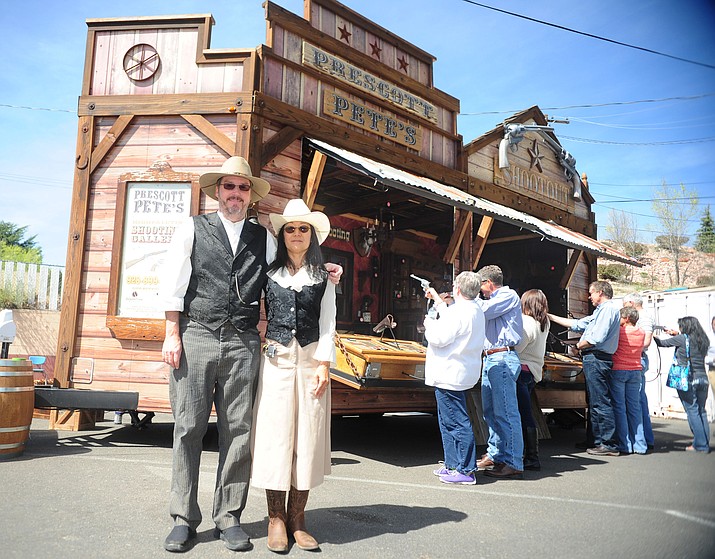 Photo by Les Stukenberg.
Originally Published: July 2, 2016 6:02 a.m.
PHOENIX - On Monday, July 4, the City of Phoenix will recognize Independence Day by hosting one of the state's largest annual events.
Known as Fabulous Phoenix 4th, the free family-oriented celebration will feature 50 vendors.
Despite putting in an application, Prescott Pete's Highfalutin Shooting Gallery, a mobile game that uses lasers to set off random targets within an Old West saloon setting, will not be one of those vendors because it was deemed inappropriate for the event after a review from the event's committee.
"Everyone agreed that you have a great exhibit, but the City of Phoenix is very conscious about the perception of violence given the current climate," stated the rejection letter.
"It's a pretty straight forward decision that this committee made," said Gregg Bach, public information officer for the City of Phoenix Parks and Recreation Department, which is in charge of organizing such events. "The planning committee was not comfortable with an exhibit/game that presented guns in a fun or glorified way."
Upon reflection, the owners of the shooting gallery, Pete and Valerie Fowler, said they took great offense to this. "To me, it's a case of government overreach and at odds with the political and cultural realities of the state," Pete said.
Though Bach referenced the shooting of a Phoenix police officer in recent months and the trend of mass shootings in the U.S. in recent years, it's worth noting that the shooting gallery was rejected well before the most recent mass shooting in Orlando, Florida.
"If it had happened immediately following the shooting in Orlando, I would have been a bit more understanding, but this was just out of the blue," Pete said. "For us to make this business work, we have to get into big events like [Fabulous Phoenix 4th]."
Looking back to when he first unveiled what is designed to be a family-friendly business a few months ago, Fowler never imagined he'd run into such a barrier in Arizona of all places.
"If I had done this in California, I would have definitely thought, 'well, there's a totally different sensibility there,'" Pete said. "But, honestly, I just didn't think we'd ever encounter it in Arizona."
And even in California, the company that built the Fowlers' mobile shooting gallery had just replaced the stationary shooting gallery at Knott's Berry Farm, a major family-oriented theme park.
Arizona, in particular, has a rich history of Old West shoot 'em up entertainment. Across the state, the rough and tumble aspects of the Old West live on with gun fight reenactments, infamous tales of gunfighters like Wyatt Earp and Doc Holliday, and shooting galleries of all types in towns like Tombstone, Bisbee, Douglas, Wickenburg, Jerome and Prescott.
In April 2011, Gov. Jan Brewer signed a bill designating the Colt Single Action Army Revolver as the state firearm. Only seven states have such a designation. To reflect this state pride, Prescott Pete's Highfalutin Shooting Gallery features replicas of this very revolver.

"We supplied enough reference material for them to see that we're not shooting people or glorifying it, it's just a fun amusement," Pete said, "but apparently, a historically correct shooting gallery is promoting violence."