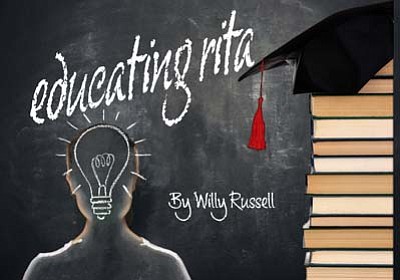 Originally Published: January 28, 2016 4:48 p.m.
The Prescott Center for the Arts, 208 N. Marina St., is opening its next Stage Too show, "Educating Rita," on Thursday, Feb 4. Written by Willy Russell and directed by Julie Chavez Harrington, the show stars Doug Suits and Amber Bosworth. Featuring a story that anybody can relate to, the show runs Thursday, Feb. 4, through Saturday, Feb. 6; Thursday, Feb. 11 through Saturday, Feb. 13; and Thursday, Feb. 18 through Saturday, Feb. 20 at 7:30 p.m. and Sunday, Feb. 7, 14 and 21 at 2 p.m. Tickets are $15 and can be purchased online at www.pca-az.net.
Harrington became attracted to "Educating Rita" after friends she was working with encouraged her to take it on after learning that the show didn't have a director, she said.
"They were very enthusiastic. I had directed both of those actors," Harrington said. "I got the script, read it and was like, 'Oh, this is going to be fun.'"
The biggest challenges in putting the show together have been the dialects since it's set in Britain, Harrington said. There's also how the show has been updated and modernized to include current technology such as laptops, cell phones, Bluetooth and e-cigarettes.
The acting is phenomenal, Harrington said, noting that Bosworth and Suits have amazing chemistry with each other.
"Amber is such an accomplished actor, she's a hoot to watch, she's got beautiful comic timing," she said. "Doug is a natural, this is his first lead role and he's handling it like a champ. He's working like I've never seen an actor work. He's got a full time position ... he works as a lawyer by day, actor by night and he just puts in a lot of hours and listens well."
"Educating Rita" is very accessible as well, Harrington said. Everyone can relate to that feeling inside of them concerning having more to give than what life is requiring, she said. Rita is on a search to figure out who she is and how to be the best person she can be, which a lot of people are searching for, Harrington said.
"They look around them and say, 'Is this all there is to life?' She really is a person that's going for it," Harrington said. "The characters really drive the plot, it's not the other way around."
By Jason Wheeler. Follow reporter Jason Wheeler on Twitter @PrescottWheels. Reach him online at 928-445-3333, ext. 2037, or at 928-642-5277.
More like this story