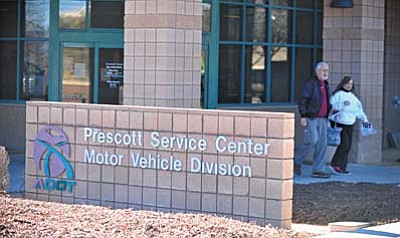 Originally Published: January 14, 2016 6:02 a.m.
PHOENIX -- Nearly a decade after promising to address the problem, the state's Motor Vehicle Division continues to struggle to get customers in and out in less than half an hour.
A new report by the agency finds that it takes an average of close to 45 minutes for motorists to get what they need at offices in the state's two metropolitan areas.
It's somewhat better at the less crowded rural offices, with a typical visit taking just 24 minutes.
But MVD records show the situation outside the two major metro areas is far from consistent. Residents of some communities found themselves having shorter waits in 2015 than the prior year. But waiting times actually increased in the past year by up to 10 minutes in Yuma and 15 minutes in Cottonwood.
In Prescott, average wait times improved more than two minutes, but at more than 33 minutes, they are still among the longest non-metro times in the state.
"Our Prescott office serves a larger community than most rural offices," Department of Transportation spokesman Ryan Harding said. "Despite increasing demands on the staff, the wait times in Prescott have decreased and we look to implement strategies to continue this trend."
He said the best days to visit MVD offices are usually Wednesdays and Thursdays. The busiest days are the 15th and last day of each month, as well as the day after a holiday or other office closure.
This comes as MVD officials responded earlier this year to an Auditor General's report stating that they were dealing with the issue. In fact, they gave the same response in 2006 when a lawmaker, citing 33-minute wait times, threatened to fine the agency.
So what's going wrong?
"That's actually a very good question," said Mike Cryderman, the agency's "process improvement and project consultant."
"That's one of the reasons I've been assigned to take a long, hard look at what's going on from an MVD office perspective," he said.
One issue is that there are fewer people working in MVD offices.
For the most recent budget year, the agency listed 604 positions filled. That's down 44 people from the prior year, a decline of 6.7 percent.
But even with MVD urging more people to do business online or at private agencies, total customer count at MVD offices is down less than 2 percent.
Still Cryderman said there's probably something more involved than staffing.
"I hesitate to say that's the lone or even contributing issue," he said.
Cryderman said he looked at data from individual offices, including fluctuations in number of employees. But he said he could not find a direct correlation between staff and wait times.
"So that tends to point to other things that we're still trying to understand, what we may have done differently in our process that has led to this particular thing," Cryderman said.
Cryderman said there is evidence that wait times are getting a bit shorter since the data was prepared for the new report. But Cryderman said that picking up three minutes still does not make up for the extra 10 minutes that was added from one year to the next.
And Cryderman acknowledged something the Auditor General's Office pointed up earlier this year.
The agency clocks "visit time" from the moment someone gets a ticket with a number until the transaction is done. That doesn't count situations where people have to queue up just to get the number in the first place.
Still, Cryderman said that, sitting in MVD offices and watching what goes on, he already has found some things that could be done to streamline the process.
One is what's called "secondary validation."
"At the very end of the process, we send them to a new window," he explained.
"The customer has to go to a new place, they have to meet a new person, they have to get validated that they are who they said in the beginning," he said, a process that adds about another 4 minutes to the whole experience. Cryderman said he's questioning whether that is necessary.
"This is after they've already potentially talked to at least two people, possibly three, depending on how the office is laid out," he explained. Cryderman said he wants to review not just that but all processes to ensure that customers "are not just chasing their tail in one of our offices."
One thing he said the agency has been trying to do is convince people to stay away.
He said virtually all vehicle license renewals can be done online. But MVD still gets about 100,000 people a year coming in the doors to complete the procedure.
He acknowledged, though, some of those folks are people who prefer to deal in cash, something that can't happen online.
The state also allows private companies to do much of what can already be done in MVD offices -- three third-party businesses in Prescott offer title and registration services.
"We would like to keep growing that number," Harding said.
MVD is expanding its third-party program to include driver license services. But there's a cost to that, literally, as these firms are allowed to impose a surcharge to cover their costs.
If much of this sounds familiar, it should.
In 2006 then-Rep. Cheryl Chase, D-Kearny, introduced legislation to require MVD to give customers a $5 "inconvenience fee" if they aren't waited on within 30 minutes of coming in the door. And if they were still waiting after an hour, they get another five spot.
At that time, Chase cited figures showing the average wait time at MVD offices increased from 14 minutes in 2003 to 33 minutes.
Kevin Biesty, MVD's lobbyist then -- and now -- acknowledged the increase in the time motorists spend cooling their heels.
But he said MVD was working on it. And he said that more staffers, coupled with reorganization, should help reduce wait times to less than half an hour.
Even as MVD continues to try to meet that goal, there's a new potential snag on the horizon.
Beginning next year, the state will be issuing optional Real-ID compliant licenses to motorists who provide additional documentation. The advantage of these licenses is they can be used after 2020 to board commercial aircraft; other Arizona licenses will cease being accepted at that point.
But getting such a license requires a trip to an MVD office in person.
Courier reporter Les Bowen contributed to this article.