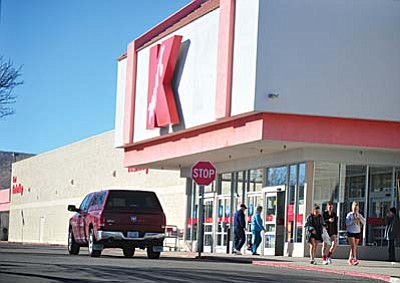 Originally Published: January 13, 2016 10:59 p.m.
Kmart's "now hiring!" banner posted outside its garden section is a little misleading considering the store is slated for closure this spring.
Employees of the store, 7550 E. Highway 69 in Prescott Valley, were made aware of the closure in a formal notice passed out on Tuesday, Jan. 12.
The notice states:
"Please be advised that due to a change in business circumstances, the Company will permanently cease its operations at 7550 EAST HIGHWAY 69, PRESCOTT VALLEY, AZ, 86314. We hope to accomplish this closing with the least possible disruption to the lives of our associates and the community. We anticipate your employment will terminate on or about April 3, 2016."
Kmart falls under Sears Holdings of Hoffman Estates, Illinois, which was formed in 2005 when Sears and Kmart stores merged.
Director of Corporate Communications for Sears Holdings, Howard Riefs, said the store will begin its liquidation sale on Jan. 24 and officially close in mid-April.
"Store closures are part of a series of actions we're taking to reduce on-going expenses, adjust our asset base, and accelerate the transformation of our business model," Riefs said.
Riefs did not say how many store closures the company plans nationwide, but news outlets across the country have begun reporting imminent store closures in their area, including in California, Hawaii, Wisconsin, Minnesota and Michigan.
Both Sears and Kmart have been struggling for years. Sears has posted net losses in 17 of the past 20 quarters, and its annual sales have been falling since 2008. And Kmart reported a 7.5 percent decline in comparable-store sales in its most recent quarter.
Other retail companies have been feeling a squeeze as well.
Last week, Macy's announced it will be closing 40 of its department stores, slashing 4,800 jobs.
Prescott Valley's Kmart has 60 employees, Riefs said, adding that associates who are eligible will receive severance and have the opportunity to apply for open positions at Sears or Kmart stores in the area or state. Most of the associates are part time/hourly.
After the closure, there will be no Kmarts in Yavapai County and only two Sears - one in Prescott and one in Cottonwood. Prescott's Kmart, which was located in the Safeway shopping center off Willow Creek Road, closed in November 2009.
Prescott Valley's Kmart has been in business since the early 1990s.
"It's a sad day for all employees," said a local employee, who wishes to remain anonymous. "I can sum up this whole thing in two words: Wal-Mart won."
Wal-Mart opened its third location in the quad-city area just about a mile from Kmart at 3450 N. Glassford Hill Road two years ago this month.
Prescott Valley Town Manager Larry Tarkowski said the closure is unfortunate news.
"We hate to lose any retail outlet in our community because the more we have, the greater shopping variety there is and the more employment there is," Tarkowski said.
Follow Max Efrein on Twitter @mefrein. Reach him at 928-445-3333 ext. 1105, or 928-642-7864.