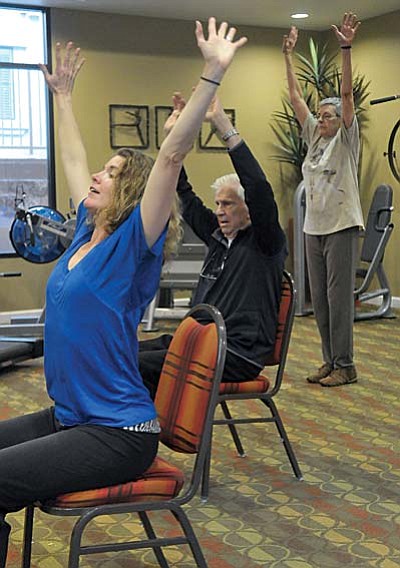 Originally Published: January 13, 2016 6:01 a.m.
PRESCOTT - At 95, Alta Vista retirement community resident Henry Ebbets can still work up a sweat thanks to a weekly dance fitness class that allows him to perform his moves while seated in a chair.
"It's fun," declared Ebbets of the Breadth of BeMoved course taught by certified instructor, dancer and choreographer Mary Heller whose own father, Steve Heller, 77, a cancer patient, is one of her students.
The "Breadth of BeMoved," soon to be renamed "Gentle BeMoved," is a trademark dance fitness program that focuses on breath and movement through "choreographed, artistic sequences that activate core strength and balance while improving flexibility and coordination," according to the program description.
On this Wednesday, five seniors sway, stretch and flex their wrists, hands, legs, hips, even their fingertips, to such catchy tunes as "Chain of Fools," "Mustang Sally" and "Ain't No Sunshine When She's Gone." Only Ebbetts opts for a chair for the routines; all express it is quite a workout despite the fact it is rooted in dance moves.
In the middle of the hour-long class, these seniors engage in some fancy footwork that tests their balance and coordination. They also are encouraged to clap and do some pattern hand drumming as part of their session. Their smiles, and occasional laughter, attest to the positive stimulation and mood created through both the movements and the music.
"I love it," declared Alta Vista resident Gail McConnell, 76, who didn't miss a beat as the class learned new steps and expanded on familiar ones. "It's good exercise without being exercise ... The more I do, the better I feel."
The musical repertoire incorporates everything from country and jazz to salsa and disco beats. The Rat Pack is a particularly popular genre for this audience.
"It's mainly because of the music that it works," McConnell said as the rhythms reverberate through the space off the front lobby that is dedicated to a variety of exercise or fitness type classes.
Running a bit late for this session, resident Joyce Scott, 81, raves that this class is one she never likes to miss because she leaves reenergized.
"It gets you moving," Scott said.
Scott and the other students also have high praise for Heller who demonstrates the moves with elegance and grace, her ebullient personality keeping the students engaged and entertained as they exercise both body and mind.
"She's great," Scott said, noting perfection is not the goal but rather persistence. "She's good to any newcomer and she's very kind."
A lithe and gregarious woman, Heller started offering this course at Alta Vista back in September 2013. She also offers community "BeMoved" classes, but this expanded version is geared toward seniors, including those who may have some mobility issues that require either they do movements from a seated position or possibly need to lean on a chair so as to perform some of the routines.
The "BeMoved" movement is all about the artistry of dance and "sharing the joy of dance with people of all movement abilities," she recites from the program description.
As a dancer, educator and choreographer, Heller has invested her adult life in performance and instruction - she was a dance professor at the University of Idaho - and in 2010 earned certification for this program.
For this class, Heller is seated in the front of the room, yet she spreads her arms wide, keeps her mid-core taut and extends her legs as she bends and flexes at both fast and slow tempos, relying on a mirror in front of her to keep track of her students' progress.
"You can dance in a chair," Heller said, noting she has taught some of her skilled care clients in wheelchairs how to dance the Charleston.
Beyond the physical strength dance builds in people, Heller said there is a socialization factor, a camaraderie that her students enjoy as much as they do the music and motion.
"We crack jokes," she said as Scott makes a big nod of her head.
From her professional experience, bolstered by medical studies, Heller said it is a proven fact that dance improves individual mobility as well as enhances cognition, coordination and mood. From the dawn of civilization, dance and movement has been integral to culture, an artistic expression that inspires well-being, she said.
In her classes, she exaggerates her gestures and her breathing so as to encourage her followers to do likewise. She does not talk about heart rates and stamina, but rather the beauty of the dance that leads to all the rest.
"Breath infuses the movement," she said.
Most important to Heller, though, is this brand of dance fitness inspires "joy."
"It's art," Heller said. "You're connecting right back to who you really are."
Follow Nanci Hutson on Twitter @HutsonNanci. Reach her at 928-445-3333 ext. 2041 or 928-642-6809