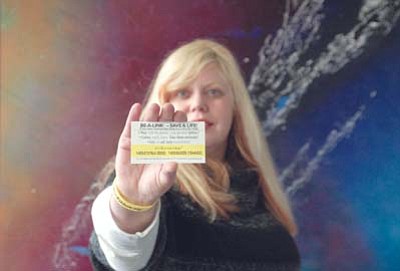 Originally Published: January 12, 2016 6:04 a.m.
PRESCOTT - Mental health professionals in Yavapai County are ready to begin a broad-scale attack on suicide, with a special emphasis on youth suicide.
In coming weeks, West Yavapai Guidance Clinic will introduce the Yellow Ribbon Suicide Prevention Program to Chino Valley Unified School District. Other schools in the area are considering it as well.
"When we have kids in our area who are taking their own lives, we cannot wait," Chino Valley Unified School District Superintendent Duane Howard said.
He said it's been several years since a student attending a Chino Valley school died by suicide, but he recognized the impact of suicide among schools in the area.
Yavapai County's overall suicide rate at more than 29.1 deaths per 100,000 population in 2013 was well above the state average of 17, according to age-adjusted data maintained by Arizona Department of Health Services.
By comparison, Yavapai County's rate is higher than the states with the highest suicide rates in the nation: Montana, Alaska and Wyoming, all with rates between 22 and 24 deaths per 100,000 residents.
In 2013 - the last available year for statewide published statistics - 25 Arizona children between 10 and 17 years old took their own lives. Of those, 22 - or 88 percent - were preventable, according to ADHS's Child Fatality Review Program report released in November 2014. For the previous five years, ADHS reported between 75 percent and 91 percent of youth suicides were preventable.
Based on the understanding that many suicides - and a very high percentage of youth suicides - are preventable, Howard said the decision to bring the Yellow Ribbon program to Chino Valley schools was easy.
"I am a big believer in using every resource available to us," he said. "It (the Yellow Ribbon program) gives us an opportunity to be proactive with a very real issue impacting our youth."
West Yavapai Guidance Clinic has offered a suicide prevention program for several years, organization spokeswoman Laura Norman said.
However, between 2007 and 2011, the overall suicide rate in Yavapai County spiked up, doubling or tripling the state average, so clinic administration decided to do more.
"As the largest mental health center in the area we felt we had an obligation to do our part to bring the rate down," Norman said.
West Yavapai's previous approach had been classroom-oriented and largely focused on adults. "What we had not done is have a plan or program for those under age 18," Norman said.
The Yellow Ribbon program is a nationally recognized best practice program, she said, and clinic administrators were particularly attracted because it is specifically oriented toward youth, though it is still suitable for adults.
"It was a movement created by teens," Norman said.
The program was founded in 1994 by the parents of Colorado teenager Mike Emme, who took his own life at his parents' home. They found his body in the yellow 1968 Ford Mustang he had restored.
According to the time on the note he left, Emme killed himself seven minutes before his parents pulled in the driveway.
As his peers grieved his death, they asked what they could do.
"Don't do this, don't attempt suicide," Emme's mother told them. "If you are ever at this point of pain or despair, please ask for help."
Emme's classmates created cards with a simple message: "It's OK to Ask4Help!"
They pinned 500 ribbons on the cards and distributed them during the memorial service.
Three weeks later, a teacher in Wyoming called after she received a card from a student. She wanted cards to distribute in her area. Similar calls followed from across the country.
The card has been revised since 1994. Today it's a two-sided business card, and it still tells those who carry it that it's OK to ask for help.
One side carries a message starting with "This ribbon is a lifeline."
When a counselor, teacher, clergy, doctor, parent or friend receives the card, it tells them that the person who handed it to them is having thoughts of suicide and needs their help - even if he or she can't verbalize their need for help.
The reverse side has simple instructions for whoever receives it: Stay with the person, listen to them and get help. The Arizona version also has the numbers for the Crisis Services and the National Hopeline Network, and National Suicide Prevention Hotline.
Ideally, West Yavapai staff hope to train school personnel, who in turn present the program to the entire student population.
The goal of the program is twofold. First, it provides people and communities tools to help prevent suicide. Second, it reduces the stigma that prevents communities from talking about suicide as a mental health issue.
Humboldt Unified School District Superintendent Dan Streeter said his district and West Yavapai have discussed bringing the program to HUSD. While he said he supports the efforts of the program, he and other district officials are still determining whether it's the best approach for the district.
Likewise, Prescott Unified School District officials have not yet committed to bringing the program into their schools.
"We are in the beginning stages of working with West Yavapai Guidance Clinic on a plan to implement this new idea," Superintendent Joe Howard said.
Though West Yavapai Guidance Clinic receives state and federal money for some of its programs, local efforts to introduce the Yellow Ribbon program are entirely funded through private contributions to West Yavapai Guidance Clinic Foundation - the fundraising arm of the nonprofit organization.
Follow reporter Les Bowen on Twitter @NewsyLesBowen. Reach him at 928-445-3333, ext. 1110, or 928-830-9305.