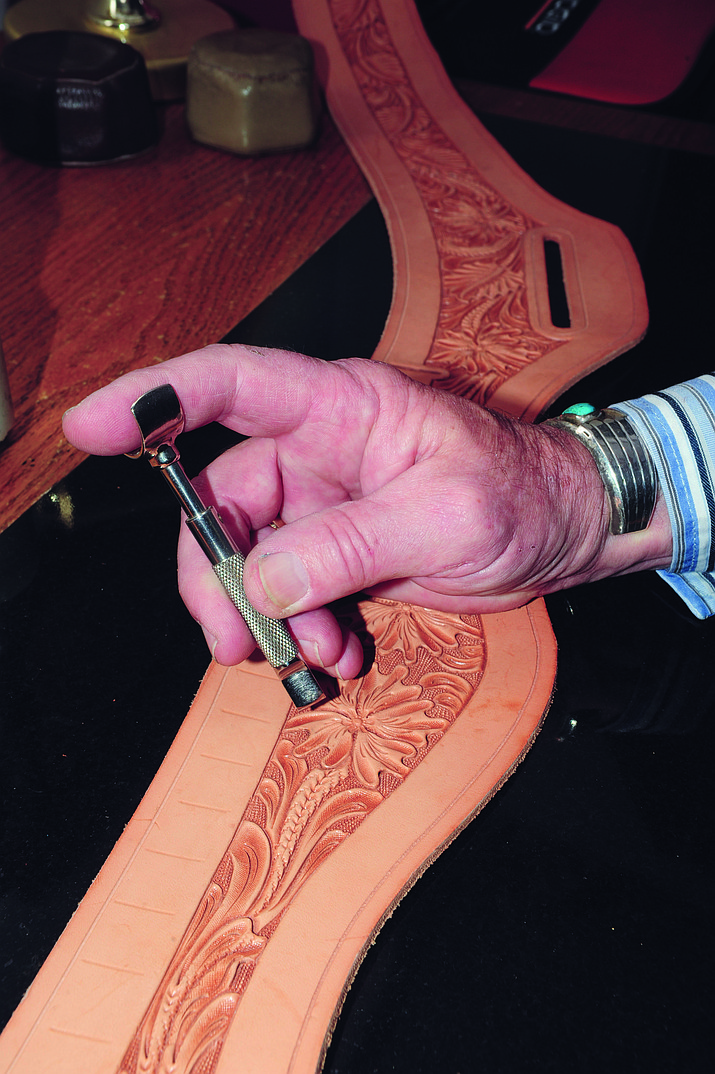 Photo by Les Stukenberg.
Originally Published: February 22, 2016 11:28 a.m.
Don the carved vest, put on those decked-out boots and fix up the studded saddle because the 16th annual Southwest Leather Workers Trade Show is returning to Prescott for the third year. Running from Friday, Feb. 26, through Sunday, Feb. 28, at the Prescott Resort and Conference Center, 1500 Highway 69, the show includes workshops starting Tuesday, Feb. 23, the Prescott Leather Art Exhibition & Sale and a display of entries into the Leather Carving Contest.
The trade show has filled up for the second year, said Ralph Solome Jr., Leather Crafters & Saddlers Journal publisher.
"It's become a very popular event," Solome said. "Ever since we moved it to Prescott, it really kind of took off."
Though the trade show is over the weekend, instructors start giving workshops this week. These include instruction on Carving & Stamping Ribbon Borders, Belt Pattern Carving & Stamping and Hand Stitching for Finesse.
Admission to the trade show itself is free and the workshops vary in price. To register for the workshops, call the Leather Crafters & Saddlers Journal at 888-289-6409 or visit www.leathercraftersjournal.com. For a full list of workshops, visit www.leathercraftersjournal.com/prescott2016-workshops.html.
Another addition to this year's trade show is the leather carving contest where people can send an 8 x 8 inch piece of work to be judged, Solome said. There are expert and general categories and people from all over the world are sending in pieces, he said. The contest will bring more visitors to the show and make it more engaging, as not only can people see what others are carving, they can participate as well, Solome said.
Carved leather is also changing, going in different and interesting directions, Solome said. Traditionally, it's been Western and floral-based design work, but these days, a lot of people are bringing in work that is more geometric as well as work that references modern culture. It's due to the younger generation, he said.
"Western art is strong and it always will be, it's traditional and it's a part of Americana and it's huge all over the world," Solome said. "It's a well-loved and recognized art form. The younger people coming in now like the Western stuff and a lot of them make it, but they also bring a broader set of influences with them."
The trade show is a one-stop shop for anyone from beginners up to those who are professionals with production shops, Solome said.
"You can pick up all the leather, all the tools, all the machinery that you would need to run a production or get started just making a few belts," he said.