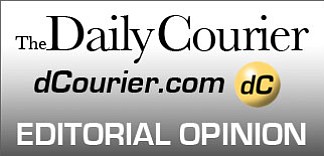 Originally Published: February 20, 2016 5:05 p.m.
The subjects that catch people's attention, and their reactions to them, fascinate me. Choosing the front page stories to fit our readers is a big part of my job, so I like to pay attention to what people are thinking. That means I read all the online comments, all the emailed comments and also research what's trending online each day.
Our news organization was accused by an online commenter this week of cherry-picking stories to run that only further our agenda (we have one?) or will garner the most attention. I always get a chuckle out of people who think this way. One person said he "knows" Courier reporters sift through police reports and only pull out the ones that we think will embarrass someone or prove a point we endorse. That's so far from the truth, it ranks up there with the Roswell aliens. We run most of the police reports that each agency sends us because we are performing a community service here - informing the public. The ones that don't get run are generally misdemeanors without special circumstances that could warrant publication. The circumstances that we look for before running misdemeanors include if a public figure was involved, if public safety was an issue or if the offense was so public in nature, the community needs to know about it.
Readers, online or print, tend to go latch onto stories that shock, outrage or tug at the heart.
I'm a fan of watching what is trending on Google searches. You can really tell a lot about what people are thinking by what they are searching for online.
I thought I'd share with you a point in time - Friday afternoon, Feb. 19 - to show you what topics the world found fascinating.
Any controversy, of course, is top of the list. This week, for instance, saw spikes in searches for Magic Johnson and Manny Pacquiao after their exchange involving anti-gay comments and people searched for the "real" story behind Disney actor Orlando Brown's arrest. Those two topics netted 200,000-plus searches Thursday and Friday.
On Friday, Internet users searched "Harper Lee" in response to the famous author's death. By 4:30 p.m. Friday, Google logged 500,000-plus searches on her.
The biggest search this week? Drum roll, please ....
The death of "Big Ang" - Angela Raiola of "Mob Wives" fame passed away from throat and brain cancer this week. Two million-plus searches have been recorded in two days.
Two million searches on someone I've never heard of.
Trump's fracas with the Pope only garnered 200,000 searches, while combined, sports stories involving NBA coach Monty Williams, Adidas, Heath Miller and the Spurs garnered half a million hits.
Clearly, we like our entertainment news on the web.
On dcourier.com, crime news tends to catch our readers. On Friday afternoon, here were the most viewed stories:
• Chino Valley police looking for woman who took other customer's money from ATM (8,901 views)
• Suspicious white powder prompts Prescott hazmat, emergency response (2,550 views)
• Man arrested, charged with Jan. 29 Prescott carjacking (1,537 views)
• Sandwich boards, bus benches OK in Prescott's new sign code (1,479 views)
• Letter: Police breaking law (1,196 views)
As your community news source, rest assured we aren't cherry-picking stories for our own benefit. If we consider an informative story on the recent flu outbreak will benefit the public, it will be covered. If a police agency shared something with us, we'll share it with you. If we investigate a topic on our own and find news the community has to know, we'll tell you.
More like this story