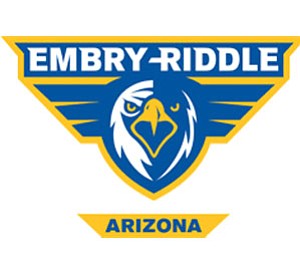 Originally Published: February 3, 2016 9:04 a.m.
PRESCOTT - Entering its third year in existence, the Embry-Riddle softball program is looking to turn the corner in 2016 using good pitching and even better defense.
And with an influx of newcomers to go along with a core returning group, Eagles head coach Marie Thomason said it can be done.
"I think we're in a really good place for our third season. ... We got some new players in this year to replace four seniors that graduated last year," Thomason said. "We're excited to get started."
Embry-Riddle finished second in the California Pacific Conference in 2015, but failed to make the postseason tournament.
The Eagles, which compiled a 15-33 overall record and were 7-8 in CalPac play last spring, won their last six contests to end the season.
Embry-Riddle has yet to finish at least .500 in their first two seasons, going 11-29 under Thomason in its inaugural 2014 campaign.
It helps that Thomason already has her 2016-17 class of recruits already signed, and even has one committed for 2017-18, she said.
"The majors [academically] are there, the kids are there, it's just getting out and finding that niche," Thomason said. "It's getting out and finding those kids that are going to be academically successful as well as athletically."
This season, Embry-Riddle returns several key contributors from 2015 including projected No. 1 starting pitcher Kayla Avram, a junior, and 5-foot-1 sophomore pitcher Olivia Ramos.
"I think they are both in a pretty good place. Kayla is a returner for us. ... She throws very well and she knows how to control a ball game, and as long as the defense backs her up she does a great job," Thomason said.
Ramos, who threw a one-hit shutout over Antelope Valley in a 4-0 victory on March 21, 2015, said she's excited to get the season.
"This year I'm only going to be a pitcher, so I miss hitting and being on the field," Ramos said. "But I guess pitching is my favorite so I can focus on things like movement, speed and other aspects of pitching."
Thomason said a light when on during that one-hit shutout for Ramos last season.
"Olivia came into her own last year when we played Antelope Valley. Something just clicked with her and changed," Thomason said. "I think she's going to be pretty solid on the mound as she matures."
Ramos said for Embry-Riddle to be successful this spring, the team has to "believe."
"I think we have to go out from the beginning and believe we can win," Ramos said. "This year I think we have a pretty good team, and there's a lot of new players, so we have to come together."
Other returners include All-Conference outfielder Hannah DeLuna, sophomore shortstop Willow Seward, sophomore third baseman Rachel Pope and sophomore outfielder Kaila Romero.
Thomason said DeLuna brings a lot to the table, despite being only a sophomore.
"Hannah is a leader, and she does what she is expected to do and holds people to that same standard," Thomason said. "She swings a really good bat, and getting All-Conference last year made her a little more confident. So I think I'm going to see even more out of her at the plate this year."
As for Pope, who made the switch from first base to third base during the offseason, Thomason said it's been a smooth transition. "Rachel has a cannon for an arm. When we had an opening at third base, I asked her if she had ever played there before, and she said yes, when she was younger," Thomason said. "Her footwork is good, she stops the ball. Anything hit hard she's going to get, and she's got a great arm so I think she'll be fine over there."
As for the top newcomers, Embry-Riddle welcomes junior college transfer Katherine Morgan, who should see time behind the plate this season at catcher, and utility infielder and pitcher, Katey Moore.
"Katherine [Morgan] is a definite leader for us, and she was recently elected captain of the team," Thomason said. "She works hard, she's a leader behind the plate and she works hard."
Junior infielder Meghan Hospodka and freshman first baseman Kaila Provost will also be looking to make their presence known this spring.
Thomason said for those who have seen Embry-Riddle play in the past, this year's version of the Eagles may be very different.
"I'd say in years prior, our defense wasn't great, but our pitching was pretty solid. We had a high-error count, so we were more of an offensive team. We won a lot of games on the long ball," Thomason said. "This year, I foresee that changing. I hope we hit really well, but our pitching and defense is going to be definitely improved."
Embry-Riddle is set to begin the season Friday, Feb. 5, in California as they will play a double header against San Diego Christian at 1 and 3 p.m.
On Saturday, Feb. 6, the Eagles are set to play two against Saint Katherine College in Encinitas, California, with a first pitch set for noon.
Follow Brian M. Bergner Jr. on Twitter @SportsWriter52 or reach him by phone at 928-445-3333, ext. 1106.
More like this story