Originally Published: December 25, 2016 6 a.m.
PRESCOTT – Memories of a shiny new bike, a GI Joe, aluminum tinsel, and bubble lights: All of the trappings of a 1960s Christmas came flooding back for Mike Shepard when he spotted the vintage nativity scene on the shelf of a local thrift store.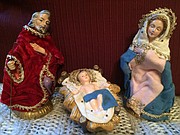 Of course, it wasn't just any old nativity scene. The little scene that peeked out from the back of the store shelf was a part of the plaster set that Shepherd and his siblings had decorated 50-plus years ago, while they were growing up in a house on South Virginia Street.
"I had forgotten all about it," Shepard said of the hand-decorated pieces. But when he saw the distinctive red-velvet cape with gold accents draped around the shoulders of Joseph, and the little blue swaddling on the baby Jesus, Shepard says, "There wasn't a doubt for one second – that's the one."
Seeing those figurines, still clothed in the carefully glued fabric triggered some powerful Christmas images for Shepard. "Just the same way that a certain smell can take you back to your mother's kitchen, the view of that took me instantly back to a Christmas when I was 10 years old," he said.
It was by chance that Shepard had run across three of the figures of the old family nativity scene on the shelves of the NOAH's, a South Granite Street thrift store that benefits neglected and orphaned animals.
Especially unmistakable for Shepard was the baby in the manger. "The little blue-velvet diaper on the baby Jesus – that was our 'piece de resistance,'" he remembers with a laugh.
"I was 10 years old," Shepard recalls of that Christmas in 1963. "I remember it well."
He and his brother John, and his sisters Sharon and Debbie had decided that the little plaster nativity set that the family had bought at the local five-and-dime-store needed a little sprucing up.
"We glued velvet cloth on the capes, and put little jewels around it, and haloes and sparkly stuff," Shepard said. The little set became the centerpiece of the family's Christmas that year.
But as the years passed, he said, "The novelty wears off; it's not quite as shiny or sparkly the next year," he said. "Somehow along the years, it lost its luster, and it disappeared."
Shepard's mother, Josephine Shepard – a longtime Prescott resident – died in 2006. Although he will never know for sure, Shepard believes that his mother likely packed up old Christmas decorations at some point and donated them to the Salvation Army.
The little set may have been purchased by another area resident before being donated again to NOAH's.
Sharon Kincaid, the assistant manager of NOAH's, was on hand the day Shepard found the set, and when she heard about his find, she said, "I thought it was cool. I have never come across anything like that before during my year and a half here."
Shepard bought the scene from NOAH's and he plans to display it – just as it was in the Shepard home 53 years ago. "It's nothing great when you see it," he said. "But it will be a special thing for my family."
Shepard, who was an officer with the Salvation Army for nearly 20 years, is now retired from Prescott Unified School District, where he worked first as a bus driver, and later, with the Alternative Learning Plan for Students (ALPS) program at Prescott Mile High Middle School.
Of his discovery of the piece of his childhood Christmases, he said, "It's a one in a million. The lady in the store said, 'I can't believe you walked in here, and walked down that aisle.'"