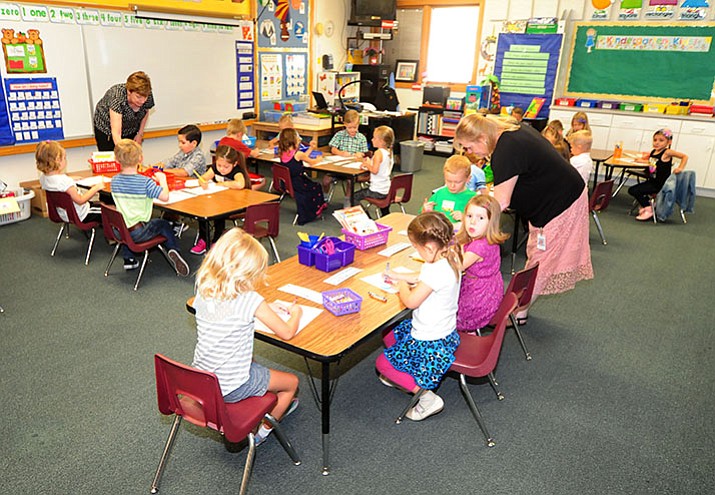 Originally Published: December 21, 2016 6:01 a.m.
Editor's note: This is a short series on the education plan introduced by state Superintendent of Public Instruction Diane Douglas. The next part will be the reaction of local state Legislative delegation.
When it comes to infusing money into the state's education system, local school administrators are the loudest cheerleaders.
"We've seen polls over and over that clearly show voters believe, and are willing, to put more money into education," said Prescott Unified School District Superintendent Joe Howard.
The general proposals
• Increase basic state aid: $200 million
• Increase classroom teacher salaries - $140 million
• Increase rural school transportation funding - $20 million
• Increase funding for rural schools: $40 million
• Fully fund capital for school facilities: $180 million
• Fully fund building renewal for school facilities - $100 million
Total $680 million
So he and his local colleagues will be the first to applaud state Superintendent of Public Instruction Diane Douglas for her proposal that recommends a $680 million funding increase for the coming year. Douglas' plan, titled "AZ Kids Can't Wait ! 2017," was devised after visits to more than 15 communities across the state to hear from residents what they consider to be top educational funding priorities.
"We love her plan and the ideas on school funding, and what they could do for our schools," said Cole Young, executive director of educational services for the Humboldt Unified School District.
A key element in the plan is a proposed $140 million to raise teacher salaries by 5 percent, Young and Howard agreed.
In 2015-16, the national average for classroom teachers was estimated at $58,064. In Arizona, the average teacher salary for the same period was $45,477. On a national level, 46 percent of new teachers leave the profession within four years for higher paying careers; in Arizona during the 2014-15 school year, 24 percent of first-year and 20 percent of second year teachers left the profession.
The rub is to find the dollars, and the political will, to make education the financial priority the general public suggests it wants, local administrators said.
"It will cost money; there is no silver bullet," Howard said of the quest to enhance and advance educational progress in this state.
Douglas' plan outlines proposals for a range of improvements that stretch from bricks and mortar and new buses to technology, literacy and gifted programs, outreach to homeless students and classroom supplies.
Nothing in the plan appears to be superfluous, administrators said.
"These are the needs we've been telling people are not being met," Howard said, noting there are schools in the Phoenix area that have had to close their doors because they are not safe to inhabit.
In Prescott, Howard said the district has not been able to buy textbooks in eight years. The district has created its own instructional guides to cover the state's required academic standards but has not had the money to invest in new curriculum so that teachers are forced to find their own materials and resources.
Howard suspects the price tag in this plan will be deemed too high, though he would be delighted to be proven wrong.
If, though, Howard had to put together his own priority list from Douglas' plan he said he would invest in education's front line – the classroom teacher.
Arizona is in a teaching crisis, and will continue to be unless state lawmakers agree to provide funding such that districts can pay salaries that reflect respect for the job these professionals do each and every day, he said.
"If we have good teachers in the classroom we will do well," Howard said, noting Prescott managed to increase its teacher and staff pay by 5 percent this year because of a $6 million community-authorized override. "It's the most important thing we do."
Yavapai County Schools Superintendent Tim Carter, who is the vice-president of the state Board of Education, admits he and Douglas have not always seen "eye-to-eye" but he considers this plan to be a solid one.
"I greatly appreciate Mrs. Douglas doing her outreach to the communities; going out and hearing what the concerns are," said Tim Carter, the Yavapai County schools superintendent and vice-president of the State Board of Education.

Not naïve about the financial and political realities, Carter said he thinks a strong case can be made for many of the initiatives.
"I read the list, and I didn't think there was anything that wasn't right on," Carter said.
"There is not a single thing that shouldn't be funded.
Carter, too, noted that the comments he heard when he accompanied Douglas on her "listening tour" from governing board members, administrators, parents, even students, "is that $680 million isn't enough."