Photo by Max Efrein.
Originally Published: December 18, 2016 6:01 a.m.
A storm that started early Friday morning, Dec. 16, gradually picked up speed throughout the day and into Saturday morning, resulting in power outages, damaged property and a general mess of the greater Prescott area.
BY THE BLUSTERY NUMBERS
1,600 lost power in Prescott Valley
59 lost power in Prescott
43 mph wind speeds
56 mph gusts
The majority of the damage was a result of high winds. By 10:30 p.m. Friday evening, the National Weather Service was reporting sustained wind speeds of 43 mph at the Prescott Airport, with gusts up to 56 mph.
About 1,600 APS customers in Prescott Valley lost power around 7 p.m. Friday due to a weather-related equipment failure, according to Jenna Shaver, Crisis Communications officer with APS. Power was restored at 12:23 a.m. Saturday.
In Prescott, 59 APS customers lost power at 9:06 p.m. Friday. This was due to a blown fuse. Power was fully restored by 12:42 a.m. Saturday.
Brad Davis, Central Arizona Fire & Medical Authority Battalion Chief, said Prescott and Prescott Valley first responders received a good number of weather-related calls, especially in the evening when winds were gusting the hardest.
Davis said he experienced some wind-related trouble at his home as well.
A sheet metal roof from the top of a neighbor's shed blew off and landed in his yard Friday evening.
"When that piece of corrugated metal hit my fence, I heard it from inside my house," Davis said.
Rather than deal with the problem immediately, he decided to wait until the morning.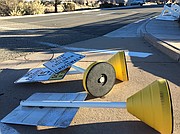 "I certainly wasn't going to try to move it with 50 mile-an-hour winds blowing and chance getting sliced up," he said.
This example brings up a good point, Davis said.
"It's best to wait until things have calmed down so you can safely clean up whatever damage was done," he said.
Some of the many calls:
• At 7:46 p.m. Friday a call came in that a tree had fallen along Dameron Drive in Prescott, taking out a shed and some power lines.
• Just before 8 p.m. a power pole's transformer was reported to be on fire along Iron Springs Road near Camp Yavapines in Prescott
• Around 10 p.m., a power line was called in as down and needing repair on Demerse Avenue in Prescott.
• At about 10:15 p.m., a tree crashed onto a home's deck and shed along Long Rifle Road in Prescott Valley.
• At about 10:30 p.m., a power pole along Gail Gardner Way in Prescott was arcing, causing sparks to shoot from it.
• At about 4 a.m. Saturday, a tree came down and took out a fence along Union Drive in Prescott Valley.
• At about 10 a.m. Saturday morning, a call came in that there were power lines down near 204 Moall Drive in Prescott.
Similar calls were picked up by the Yavapai County Sheriff's Office:
• At 8 a.m. Friday, phone lines were reported down on East Henderson Road in Dewey.
• Around 9:45 a.m. Friday, a tree was reported down along Senator Highway near Spruce Mountain Road in Prescott.
• At 9:45 p.m. Friday, YCSO assisted the Department of Public Safety with flooding along Highway 89 in Yarnell.
• At 9 a.m. Saturday, a call came in that a tree had fallen and taken out a fence in the 2600 block of Iron Springs Road.
• At 12:38 a.m. Saturday, a call came in that a tree was down in the Prescott Country Club.