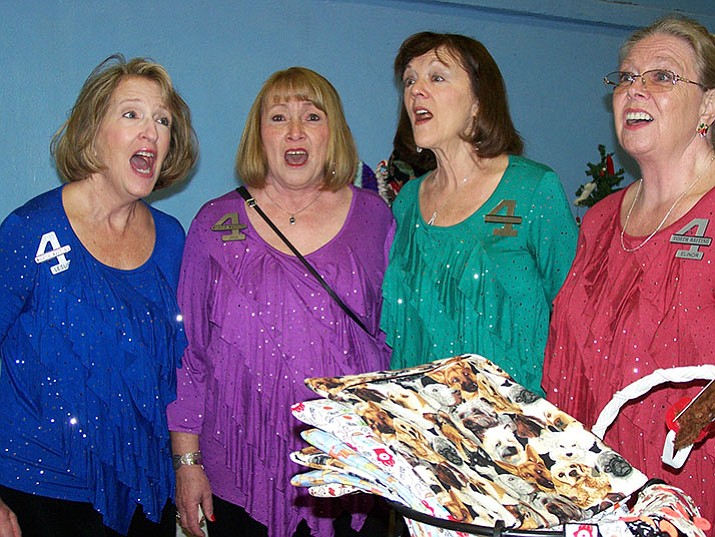 Originally Published: December 15, 2016 6:01 a.m.
It's not quite time to hang the stockings by the chimney with care, but folks still seeking stuff to fill those stockings should consider attending the Last-Minute Non-Profit Stocking-Stuffer Bazaar.
The event, which celebrates its 25th anniversary this year, will be from 10 a.m. to 4 p.m. Saturday, Dec. 17, at the Grace Sparkes Activity Center, 824 E. Gurley St. in Prescott. For longtime residents, that's the Old Armory.
There will be 57 booths manned by volunteers with quad-city area nonprofit organizations, said Debbie Stewart, who organizes the bazaar with her husband, Don. Some groups will have two booths.
Vendors will offer high-quality, low-cost gifts, crafts, baked goods, raffle chances and more, in addition to providing
info about the services they provide.
"It's a win-win situation, in that the public can take care of their gift-giving needs while supporting agencies that help our community throughout the year," Debbie said. "It's a warm, fuzzy kind of day."
Among the more popular sellers are Christmas items, including decorations, wreaths and ornaments; handmade scarves, mittens and baby blankets; notecards; and candles.
"And you can find lots of items for children, including dolls and toys, as well as plenty of treats for the dogs and cats on your gift-giving list," she said.
There are food gifts as well: cakes, cookies, candy and homemade jam and jellies – all suitable to take to a party or give as a gift, Debbie said.
Most items are priced between $1 and $20, making the bazaar a great way to take care of not just holiday gifts but year-round gift-giving needs, she said.
Participating groups include Girl Scout Troop 1565, International Street Angels of the World, Peeples Valley Fire Department Auxiliary, P.E.O. Chapter FE, People Who Care, Prescott Evening Lions Club, Yavapai CASA for Kids Foundation and Yavapai Humane Society.
New vendors this year are the Central Arizona Seniors Association and St. George Church, Debbie said.
Each vendor keeps proceeds from their sales. The bazaar's nonprofit sponsor, the Yavapai County Jeep Posse, receives proceeds from the booth rental fees. The Stewarts do not profit financially; they organize it for the community.
"This is our 25th anniversary of putting on the Last-Minute Non-Profit Stocking-Stuffer Bazaar as a labor of love for this community," Don said.
Santa will be there from noon to 2 p.m., with free gifts for children accompanied by an adult. Worth Waiting 4 will provide Christmas caroling throughout the day.
The event will occur rain, snow or shine. For more details, visit www.stocking-stuffer-bazaar.com or call 928-778-3747.