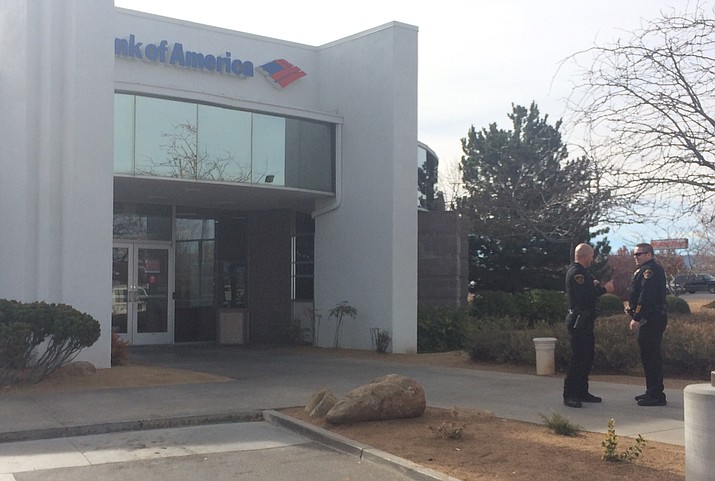 Photo by Jason Wheeler.
Originally Published: December 12, 2016 10:48 a.m.
Updated as of Monday, December 12, 2016 11:28 PM
PRESCOTT VALLEY – Police pursued a man they said attempted to rob two banks at about 10:30 a.m. Monday, Dec. 12, until his car crashed on Highway 169 as he sped toward Interstate 17 and was arrested.
Police allege that Jeffery Martin Gore, 55, of Gilbert, tried to rob the BMO Harris bank in the 7200 block of East Florentine Road and the Bank of America in the 7400 block of Highway 69 within seven minutes of each other, passing tellers notes.
He was described to police searching the area as a bald black man, with a stocky build, who left in a black sedan, possibly a Chevrolet Impala or Monte Carlo.

Minutes after the robbery, Police Chief Bryan Jarrell and a lieutenant headed toward I-17 on Highway 69, looking for the suspect.
"By the time the calls come in, they're gone," Jarrell said, "999 times out of 1,000, they're already gone. They're rarely on-scene when you arrive."
They met a Yavapai County Sheriff's deputy on the side of the road near the Leff-T's steak house, who said no one had passed him.
"So we started heading back, and we saw a black Monte Carlo" heading toward the freeway, doing "well over 110 miles an hour," Jarrell said.
They tried to catch up but were well back in traffic when he got onto Highway 169.
DPS Troopers set up stop-sticks close to the I-17 on-ramp, at milemarker 12.
"We don't know if he was spiked or if he was taking an evasion action to miss the spikes," Jarrell said. "He rolled it."
When they got up to the car, Gore was getting out on his own. He was arrested and booked into the Camp Verde jail.
There's been no word on how much money, if any, was taken from either bank, and no injuries were reported at the banks.
Further information, including charges Gore may be facing, were unavailable at press time.