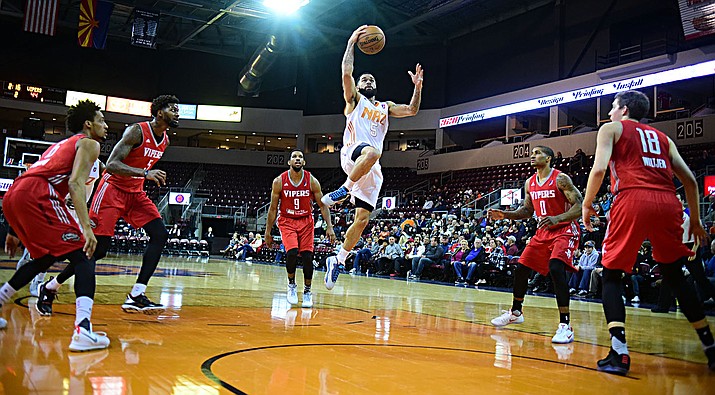 Originally Published: December 8, 2016 6:03 a.m.
Photo Gallery
NAZ Suns vs Rio Grande Valley 120716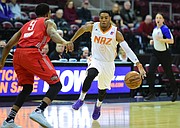 PRESCOTT VALLEY — Johnny O'Bryant scored 20 points and grabbed eight rebounds, Xavier Silas hit four 3-pointers and the Northern Arizona Suns scored 30 fast-break points in a 110-101 win over Rio Grande Valley on Wednesday night.
Silas said the defensive effort by the Suns is what earned the club a win over the Vipers, which came into Wednesday night's contest as the second highest-scoring offense (121.5 points per game) in the NBA D-League.
"The defensive mindset on this team is really exiting, I think it's winning us a lot of games," Silas said. "If we can stay with that, it will get us through those hard times because of course they are going to come. Being a veteran, I know that, so I think with this foundation, we'll be OK when that comes."
After a breakaway slam by Gary Payton II tied the game at 61-61 with 7:57 remaining in the third quarter, Northern Arizona (8-1) used a 20-7 run to close out the period. Derrick Jones Jr. followed an Elijah Millsap 3-pointer with a slam dunk to give the Suns a 15-point lead, their largest of the night, making it 81-66 with 20.2 seconds to go in the third, and they didn't look back.
Millsap finished with 18 points on 7 of 16 shooting from the field, and grabbed nine rebounds. Jones scored 15 points, but was 5 for 10 from the free-throw line for the Suns, which shot 45.6 percent from the field (41 of 90) and hit nine 3-pointers.
Northern Arizona head coach Tyrone Ellis credited his bench with the third-quarter spark against the Vipers (8-3), which came into Wednesday night's game trailing only the Suns for the best record in the Western Conference.
"I subbed out our starters," Ellis said. "I subbed out everyone except for DJ [Derrick Jones] and I told them that, 'Minutes aren't given, you have to earn your minutes, and right now the starters aren't earning the minutes, so let's go bench. I trust in you.'"
Askia Booker scored 14 points on four 3-pointers, including the dagger with 58 seconds left to put Northern Arizona up 104-97.
"Confidence, teammates believing in me," Booker said as to why he was able to hit that final 3-pointer.
Rio Grande Valley head coach Matt Brase said the Vipers simply gave up too many points in transition.
"They scored 30 points in transition. That's a product of us not sprinting back, a product of us having 20 turnovers and them being able to run on our turnovers," Brase said. "We just weren't putting in the defensive effort."
FAMILY AFFAIR
Brase has deep ties to the state of Arizona. The 2001 Catalina Foothills High School graduate played two seasons at Central Arizona College before transferring in 2003 to play basketball for his Hall of Fame grandfather, Lute Olson, at the University of Arizona.
The Wildcats went 50-17 in two seasons with Brase on the roster, reaching the NCAA Tournament's Elite 8 his senior season in 2005.
INJURY REPORT
Suns: None.
Vipers: P.J. Hairston and Isaiah Taylor sat out Wednesday night's game with a groin injury, and Markus Kennedy was not with the team due to personal reasons.
Taylor is second among D-League scoring leaders with 25.7 points per game.
NEXT UP
Northern Arizona continues its season-long five-game home stand Friday against Rio Grande Valley in a quirky 48-hour doubleheader. Tipoff at the Prescott Valley Event Center is set for 7 p.m.
Brian M. Bergner Jr. is a sports writer and columnist for The Daily Courier. Follow him on Twitter, Instagram, Periscope and SoundCloud at @SportsWriter52, or on Facebook at @SportsAboveTheFold. Reach him by phone at 928-445-3333, ext. 1106.