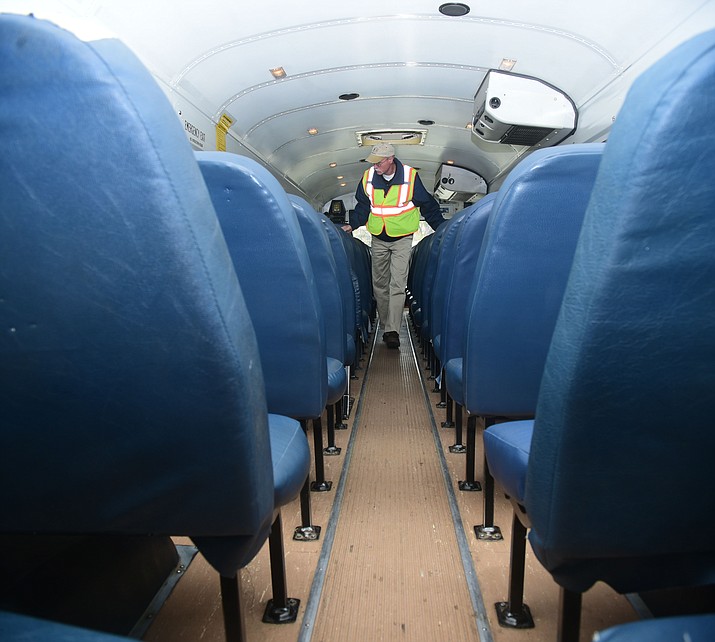 Photo by Les Stukenberg.

Originally Published: December 3, 2016 6:01 a.m.
Photo Gallery
School Bus Safety Check
News of the Chattanooga, Tennessee, school bus crash that killed six students has reverberated across the nation with horrified parents, school and civic leaders eager to know how to avoid future disasters.
None, however, are more likely to lament this tragedy, or debate what occurred, than bus drivers, many who themselves are parents and grandparents, said Shawn West, Prescott Unified School District director of facilities and transportation.
"I can't tell you this can't happen in PUSD, but I know our drivers love our students and none of them would want that responsibility on them," West said, referring to the Chattanooga driver who now faces criminal charges in the death of those students aged 6 to 10.
The National Transportation Safety Board has determined the driver hit a mailbox, a utility pole and then rolled over onto its right side when it then collided with a tree. Six of the 37 children on that bus died; a dozen were wounded. The driver, 24-year-old Johnthony Walker, was charged with five counts of manslaughter. Police allege excessive speed as part of the cause; he tested negative for any illegal substances in his system.
Beyond a rigorous state-required application and training process, West said he chooses his drivers, who must be at least 21 years of age, based on his own criteria: his top two qualifications are honesty and integrity. While the state has minimum standards for continued testing every two years, West requires his drivers to take those performance tests annually, and they must pass with 80 percent or above to pass.
"I don't go off minimums," West emphasized. "If you have children, you know they are the most precious cargo we have. Minimum standards then don't apply."
Of the 36 contract drivers who work for the district – they have another handful who are substitutes as well as additional aides – West said many of the drivers have been between five and 15 years, a few who have been here 20 years. They also have brand new drivers. Most of the drivers earn just under $12 an hour and work six hours a day. Some drivers also do field trips and after school sporting events.
All drivers must have14 hours of classroom training and 20 hours of behind-the-wheel instruction before they are given a route, West explained. That training is what determines their qualifications for a state-issued commercial drivers' license. The drivers all must pass a first aid and CPR course and have a medical checkup that says they are physically able to drive a school bus.
West has monthly training meetings with the drivers where they discuss a variety of topics, including difficult routes, student management and any other safety-related issues.
Any parent or school complaint about a driver is immediately investigated, and West said that will include everything from checking speed gauges, bus security tapes, and interviews with the driver, student and any witnesses to whatever incident occurred. Multiple complaints were filed against the driver prior to the Tennessee crash, authorities have stated.
Depending on his findings, West said he can do anything from assign a trainer to ride with the driver to impose a suspension. In serious offenses, West and the district administration will terminate employment.
Even an off-duty school bus driver convicted of a DUI or serious motor vehicle offense can lose their commercial license, and therefore, their job, he said.
Any driver who is in a bus collision is drug-tested, and placed on administrative leave until those results are returned, usually within 24 to 48 hours, West said. A driver who refuses such a test immediately loses their license, he said.
PUSD driver Paul Beaumont said this district has a strong focus on training because they are "transporting the most precious cargo" every day.
"The directors here won't put you behind the wheel unless they feel 100 percent confident that you know what you're doing, and that you're confident," Beaumont said.
As for what he thinks is needed in a bus driver, Beaumont said they must be people with good attention to detail, be it the mechanics of the bus or traffic patterns; an understanding of their surroundings at all times and most of all, recognition of the responsibility that comes with the job.
Humboldt Unified School District Transportation Director Ken Fox said his 82-staff department is equally vigilant with its drivers.
Indeed, West said he is constant communication with Fox and Chino Valley Transportation Director Jeff Lambert.
Part of Fox's screening to recruit the very best drivers is a thorough interview process incorporated into the standard criminal background checks and motor vehicle reports. Random drug tests are performed throughout the year, he said.
Like West, Fox is constantly in communication with this staff, and each month outstanding employees are honored for their service that exceeds expectations. Both directors say they strive to foster strong morale and camaraderie among their drivers, with drivers sometimes the first to identify a problem.
When problems do arise, Fox said he does not hesitate to address them, and take remedial action.
With speed identified as a factor in the Tennessee crash, both Fox and West said that is something they monitor, and discuss, with drivers.
If a driver is running late due to traffic, or unforeseen conditions, Fox said he would rather explain to an angry parent why the child is late than risk a far more somber conversation.
"There's no need to rush; there's no hurry," Fox emphasized.
In his district, Beaumont said time schedules are always secondary to safety.
"You try and make your times, but if you're running late, so be it," Beaumont said.
"Our first priority is always your children's safety," Fox concluded.