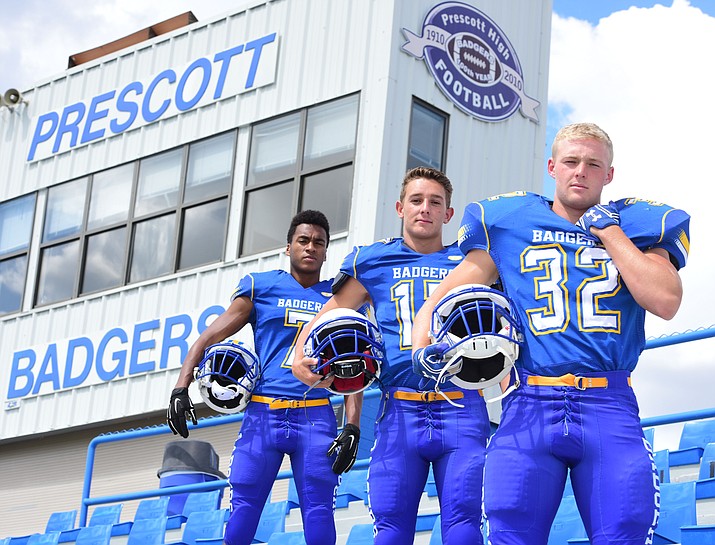 Photo by Les Stukenberg.
Originally Published: August 22, 2016 6:03 a.m.
https://soundcloud.com/sportswriter52/fb-coach
PRESCOTT – The last time a Prescott football team qualified for the state playoffs, seniors on the current roster were still in eighth grade.
But with a new head coach, a rejuvenated vision and a little luck, Prescott may finally break through the wall that is a newly aligned 4A conference in 2016.
"We've come in second place the last three years, so we've been a playoff-quality team, but I'll admit, that's different than being a playoff team," first-year Prescott head coach Michael Gilpin said before practice Friday afternoon.
Once an offensive coordinator and now the man in charge, Gilpin said a Badger "misstep" each of the last four seasons has cost the program a playoff berth.
"Each season, some game we thought on paper we thought we should win, we've lost," Gilpin said. "It's really that simple."
Gilpin's message to his squad in 2016 is simple: Beat the teams that are put in front of you.
"You have to beat the Mingus' and the Bradshaw's [Mountain], you've got to beat them," said Gilpin, who was on the Prescott sideline calling plays during a 27-7 season-ending loss to Mingus in 2015.
"If we can take care of the teams we should take care of, and we can beat Mingus and Bradshaw, and our own little nemesis Flagstaff that's knocked us off … It's pretty simple," Gilpin said. "We haven't done that, and we're going to try and do that this year."
Flagstaff upset the Badgers at the Walkup Skydome in 2015, handing them an embarrassing 36-6 defeat.
OFFENSE
Believing that a football game is won in the trenches, Gilpin will be tasked with replacing a few lineman on both sides of the ball in 2016, but he said that hasn't been as hard as originally expected.
"One of the things we're really happy with is how our offensive line has come together," Gilpin said. "In the past, we've had some super tough kids, but we haven't had a lot of size across the line from tackle to tackle, but this year we're fortunate enough to have some kids that are pretty talented and pretty big as well."
Alec Montague, a senior left tackle for the Badgers this season, said he was a little "iffy" on how the offensive line was shaping up during summer workouts, but they've really pulled it together.
"Guys are stepping up," Montague said. "We have a few new guys that are showing good things, so I'm pretty excited."
A big part of Prescott's offensive attack in 2015 was its running game, but with senior tailback Christian Setter (1,237 Yards, 21 Touchdowns in 2015) transferring to rival Bradshaw Mountain this fall, it will be up to players like Collin Mills, David Pearce and A.J. McCracken to fill the void.
"We have a lot of confidence in those guys," Gilpin said. "They showed their stuff in the scrimmage a couple days ago, and there's no reason for me to think that running behind our line, they won't have success."
Montague, a longtime friend of Setter, said he can't wait for the season finale against the Bears.
"It's going to be fun to knock him around a little bit," Montague said laughing.
As for the quarterback situation, Gilpin said junior Ryan Greene is "firmly cemented" as Prescott's starter under center, leaving senior wide receiver Dawson Winslow to pick apart defenses on the outside.
"If something happened to Ryan, we would feel very confident going to Dawson, but we feel he's a game-breaking guy on the outside," Gilpin said.
Other receivers like senior Aaron Marquadt and junior John Chaffeur have said they're on the same page with Greene.
"[Ryan] and I are connected really well," Marquadt said.
Chaffeur said everything started for the Badgers in spring football, and the team has raised their level of play at each stop along the way.
"Our expectations are very high. We all believe we can make a run at state and go very deep [in the playoffs]," Chaffeur said.
DEFENSE
Despite a few minor "wrinkles" to his defensive squad in 2016, Gilpin said fans can expect a traditional Badger defensive style.
"They're going to be tough, hard-nosed and give everything they've got all the time," Gilpin said. "In terms of intensity, hitting and things like that, it's going to be the Prescott Badgers that everyone knows and loves."
SEASON OPENER
Prescott (0-0, 0-0 4A Grand Canyon) faces a stiff test to begin the 2016 campaign, traveling south to face Marcos de Niza on Friday in Tempe.
The Padres were 12-3 last season, making it all the way to the Division II state championship before losing 38-20 to Saguaro.
Kickoff is set for 7 p.m.
Brian M. Bergner Jr. is a sports writer and columnist for The Daily Courier. Follow him on Twitter, Instagram, Periscope and SoundCloud at @SportsWriter52, or on Facebook at @SportsAboveTheFold. Reach him by phone at 928-445-3333, ext. 1106.