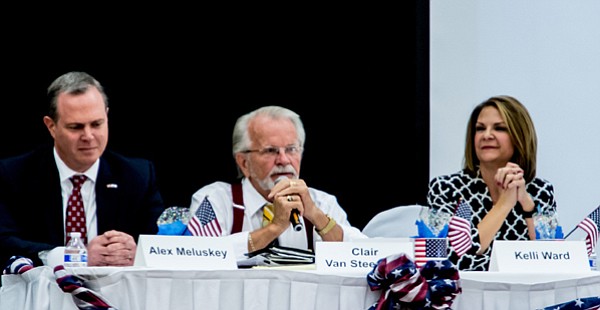 Originally Published: April 26, 2016 6 a.m.
At its April 12 meeting, Republican Women of Prescott hosted guest speaker Arizona Treasurer Jeff DeWit and candidates for Arizona Senate.
DeWit's topic was Proposition 123, giving a brief history as well as details of the proposition. He gave strong opinions on why he is opposed to this education initiative. A letter from Dr. Billie Orr was presented offering the pro argument to Proposition 123.
Following the question-and-answer session, Senatorial candidates Alex Meluskey, Clair Van Steenwyk and Dr. Kelli Ward responded to the question: "Why are you the best candidate for the Senate?" Each candidate was given five minutes to respond. Audience questions were then put to all three candidates.
This month's Caring For America charity project was "From Home With Love." This charity sends much needed personal items to our servicemen and women around the world.