Photo by Sue Tone.
Originally Published: April 25, 2016 6:01 a.m.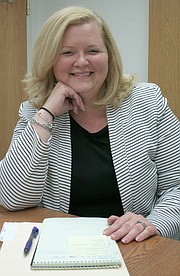 Pretty much anyone can take advantage of Arizona@Work, formerly known as Yavapai County Workforce Connection.
It serves all populations, people ages 14 to those in their 80s, all employers, and provides not only employment help and classes, but also case management for those facing significant life changes.
"When you serve all populations, you best service the business community," said Terri Drew, regional director, who has 39 years with Northern Arizona Council of Governments (NACOG), the operating entity for Workforce Innovation and Opportunity Act services in Yavapai County.
The Arizona@Work office, 221 N. Marina St. in Prescott, is open 45 hours a week from 7 a.m. to 5 p.m. It does not close during the lunch hour. It offers a plethora of employment and training services for those looking for jobs or wanting to develop a new career, as well as for employers looking for specific skills in potential employees.
Orientation classes take place at 10 a.m. on Monday mornings, but for those unable to make it at that time, clients can make an appointment for a one-on-one meeting any time of the day. The orientation material also is available as a software program on computers.
"We invite people in and give them information. They make a decision to stay or go elsewhere," Drew said.
One person who came in and stayed is Leah Cickavage. She came to Yavapai County after losing her job, and found herself with no job history in Arizona.
"I was faced with a difficult challenge – nobody was letting me in the door," Cickavage said. She went through orientation at the Cottonwood office, met with a specialist, talked about goals and took some assessments. It just so happened that the office had an opening for program aide where she did receptionist, clerical and filing work.
"I thought, 'Here's my chance to really show them what I've got,'" she said.
And she did. Drew said the staff teased Cickavage about being on probation for four years straight. That's because with every promotion, a person is placed on six months' probation. Her positions changed: from aide to eligibility worker, to program specialist 1 and then 2, program manager, and now operations manager.
"My life experience helps on many levels. I know what the client is dealing with. I empathize with what it's like, how to gain new skills," she said. "I've seen about every facet there is."
Cickavage said it's a myth that only low-income people come into the center. In reality, it could be anybody who walks through the doors.
"When people lose a job, it's almost like a death. You see people with a 25-year career, and all of a sudden it's taken away. That's a scary thing. It's OK to ask for help. We have the tools to get them back on track," she said. "I think everyone here can relate; we've gone through that experience at least once."
If someone needs a job today, staff will show the individual the daily job listing; the person doesn't need to attend orientation. Clients can learn how to create a resume and then load it online to national job search sites.
Not only does the center help people find employment, it also provides career counseling and aptitude testing for those wanting to reach a little higher in their profession or re-career into something new. Drew meets with employers to find out what they need in the way of workers, and also to learn about the company's work environment.
"We're matching not just skills and ability, but personality factors," she said.
During the summer, youth ages 16-21 can find employment through an eight-week program that pays $9 per hour for a total of about $2,700. This is the only program that is specific to low-income families, she said.
"If a youth is saving up for a car or for college, this is a great place to look into," Drew said.
Arizona@Work has exceeded national performance standards for many years, and has achieved a retention rate of 98 percent. It follows its clients for four years.
"A person doesn't come in and then we stop. They can stay with us forever. We're always here," Drew said.
Sometimes people come back to say thank you. One man returned with his paycheck to show he earned $200,000 for the year. He said it was because of something someone at the center said that made a difference in his life.
"The biggest barrier is taking the first step," Cickavage said.
For more information, visit yavapaiworkforce.org or call 928-778-1422.