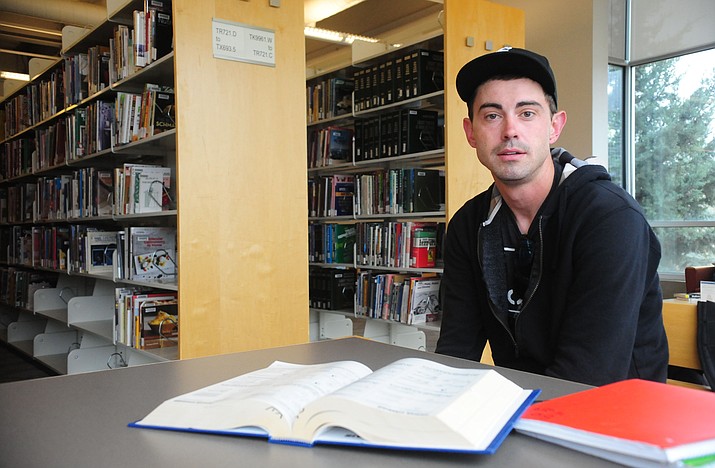 Photo by Les Stukenberg.

Originally Published: April 19, 2016 6:02 a.m.
Editor's note: This is another part of the ongoing series concerning the sober-living group home issue in Prescott.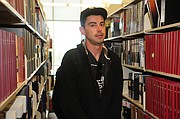 PRESCOTT – Casey O'Connor's drug abuse didn't stop after he lost his right hand in 2010 after a 110-mph collision with the back end of a tow truck in Colorado.
Both the driver, his friend, and Casey were either high or intoxicated at the time of the crash.
Casey didn't curb his drug appetite when he was left homeless in Las Vegas for three months because he spent a "large chunk" of a six-figure insurance settlement on heroin and methamphetamines. At one point, Casey was arrested and put in jail for assaulting a police officer.
"I found my caviar in opiates," said Casey, 28, whose seven-year addiction to painkillers, heroin and methamphetamines spiraled such that he suffered a psychotic break requiring hospitalization. "I was trying to buy happiness."
Something of a "late bloomer," Casey said he never touched alcohol or smoked marijuana until after he graduated from high school in Phoenix. Tired of being the "nerdy kid," Casey said he went from drinking with friends on the weekends to "taking enough oxy (OxyContin) to kill a horse."
"I got in over my head before I knew what was happening," Casey said.
In what his father, Mickey, describes as a "last gasp hope," Casey's parents enrolled him in the Recovery in the Pines treatment center in Prescott in 2014. The Christian-based, long-term recovery program for men requires stays between six months and a year. The deal with their son was they would pay the bulk of the cost – about $10,000 per month – as long as he abided by their rules.
Casey, an only child, and his parents admit they weren't sure he could hold up his end of the bargain.
"I was just a walking, talking Zombie," Casey said of his demeanor when he was first admitted.
Except the tall, lanky, tattooed young man did stop — not to please his parents, the treatment staff or doctors who warned him of fatal consequences if he did not do so.
He did it when he glimpsed what a sober future might look like for himself.
Six months into the Recovery in the Pines program, Casey was accepted at Yavapai Community College.
From a first semester engineering course that earned him top grades, O'Connor ended up getting admitted into an elite honors program with a full scholarship. He will graduate with his associates' degree in software engineering next month.
In the fall, O'Connor will be a full scholarship student in the engineering honors program at Arizona State University in Tempe.
"School gave me something to work toward. I finally found something I was passionate about," said Casey, whose conversation enlivens when he describes the engineering field and the courses that demand every ounce of his concentration. "I have a goal to succeed. I want to strive for something better."
"He's an amazing man," Recovery in the Pines co-owner Albert Black said.
From arriving with an attitude of "just doing his time," Casey ended up embracing the program's focus on changing one's life, not simply undergoing therapy for therapy sake, Black said.
"Treatment in and of itself doesn't work," Black said.
Their clientele, with a range of 10 to 15 at a time, are taught respect, responsibility, and independence through a rigorous, behavior modification-style program that incorporates Bible study, physical fitness, and life skills. The staff work with each client individually so they can forge a new path forward.
Casey recognizes he has not conquered his addiction; he doesn't believe anyone does. He said he just refuses to let it take control.
"I have more important things to think about," said Casey, who attends weekly support meetings but is wary about making them his latest addiction. "I know when I need support, and I know when I just need to detach."
Casey said his approach to sobriety may not work for everyone. He said he is now driven by a desire to be someone in the world; to do better than a minimum wage job.
And he has earned that chance.
Recovery in the Pines proved the "spark plug" that Casey said allowed him to ignite his own engine.
"You can't unturn the past, you can only move forward," said Casey, who after completing his treatment worked in the program to mentor other recovering addicts. "I don't want to rebuild myself, I want to build on top of the base I currently have.
"What I'm doing now makes me happy."
Their son's determination, proven by his actions, are a balm to his parents, Mickey and Pauline, who like many parents and families become casualties of their children's potentially lethal choices.
"With us, it got to the point, where we had to cut ties," Mickey said. "It just wasn't going anywhere."
After one hospital release, Mickey said he refused to let his son return home.
"Tough love. It was hard," he said.
Today, Mickey said he applauds' his son's hard-won accomplishments. He, too, applauds Recovery in the Pines for offering a program that offers their clients a foundation upon which they can build.
"The gift he's been given … It's amazing," Mickey declared.
Casey's future is bright, but he still must be vigilant to remain in control of what is a "horrible, horrible disease," his father said.
"We take it a day at a time, but we sure appreciate the good days," Mickey concluded.
More like this story