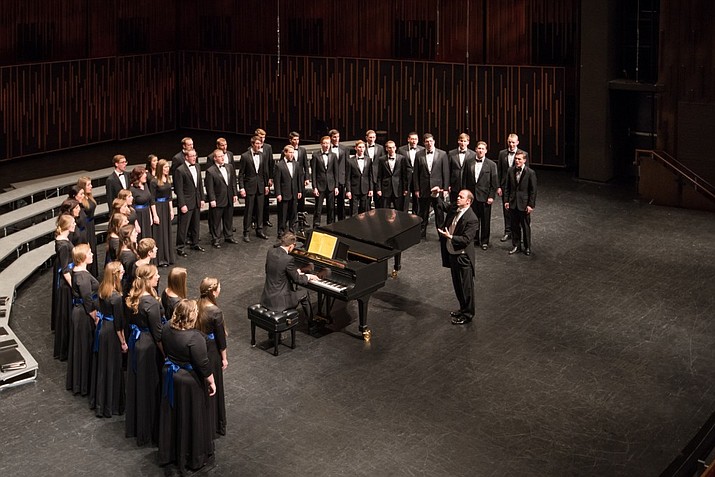 Originally Published: April 12, 2016 6 a.m.
Brigham Young University Singers will perform a concert to support area scholarships at 7 p.m. Wednesday, April 27, at the Ruth Street Theater at Prescott High School.
The concert is presented by BYU Management Society Prescott Chapter and sponsored by Prescott Periodontics, PC; National Bank of Arizona; and MAKstride.
Since its formation in 1984, BYU Singers has received growing international acclaim for spellbinding performances of music from a variety of genres. The group has performed in some of the most prestigious concert halls in the world, including Carnegie Hall in New York City and the Sydney Opera House and Town Hall in Sydney, Australia, and has been billed by the American Record Review as a "brilliant and fresh-voiced ensemble [with] razor-sharp intonation."
The group is led by Dr. Andrew Crane, a BYU graduate who returned to the university in the summer of 2015 when longtime director and founder Ronald Staheli retired. He brings a wealth of experience in choral directing and international competition, as well as a career as a professional solo and ensemble tenor.
BYU Singers has traveled to more than five continents and 27 countries, including Russia, Romania, Hungary, Austria, England, Wales, Italy, Israel, Egypt, New Zealand and South Africa. During a 21-day tour to China in the summer of 2015, the group performed in nine cities and worked with several university and community choirs.
Doors open at 6 p.m. Tickets can be purchased online at Prescott.byums.org for $15 each. There's a 25 percent discount for students and families purchasing four or more tickets.
For more information, email Kelly Moshier at prescottchapterbyu@gmail.com.