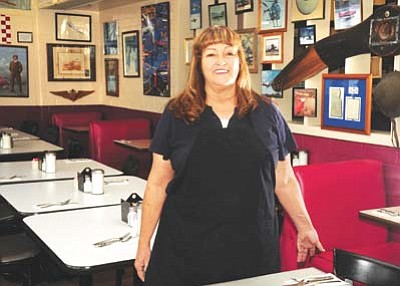 Originally Published: September 24, 2015 9:09 p.m.
Sometimes we all need a change of scenery. And while most of the scenery around here happens to be very naturalistic and picturesque, maybe that change needs to be a bit more ... aerodynamic. And there should be food with it. Those looking to have some breakfast or lunch while checking out flight patterns may want to head over to Susie's Skyway, 6500 MacCurdy Drive. Susie's Skyway, which has been around for nearly two decades, is open daily from 7 a.m. to 3 p.m.
Owner Susan Sullivan said the restaurant has been at the airport for around 40 years, but she has owned it for 19. Sullivan said her husband was a general contractor in the area for about 30 years, but became ill while building a house for a woman working in the restaurant.
"They told us my husband was never going back to work," she said. "I thought, 'What am I going to do now?' so I got the restaurant."
It was originally called Skyway Restaurant, and Sullivan said she liked the name and didn't change it, even though she could have.
Her regulars aren't just customers, they've become family, Sullivan said, noting that she sees them quite often. And there are a number of new people stopping in for the first time and they quickly become regulars, Sullivan said.
"Even those that don't get to come but maybe two or three times or once a week, they come here because they feel so at home and we feel at home with them," she said. "Everybody's just family."
It's simple to see why customers tend to stick around: Susie's Skyway has an average rating of three and a half stars from sites such as zomato.com (four reviews), tripadvisor.com (three reviews) and yelp.com (two reviews).
"Perfect place for a bite to eat and look at planes ... wish I lived nearby instead of Atlanta, Georgia."
"Susie's is a nice little spot for a casual breakfast ... haven't tried lunch, but the breakfast is good."
"My husband and I stopped in for lunch and had a wonderful time."
"... it was great to hangout relax and watch the planes and helicopters."
"Think of any diner you see and you will be close to Susie's ... been going there for years and have never been disappointed."
Sullivan said she buys good quality food and offers it for reasonable prices. Her most popular items are the burgers, she said.
As she approaches her 20th anniversary owning the restaurant, Sullivan said she isn't sure what to do to mark the occasion. However, she stated: "I'm proud to say I've been here 19 years."
Susie's Skyway can be reached at 928-445-6971.
Follow reporter Jason Wheeler on Twitter @PrescottWheels. Reach him at 928-445-3333 ext. 2037 or at 928-642-5277.