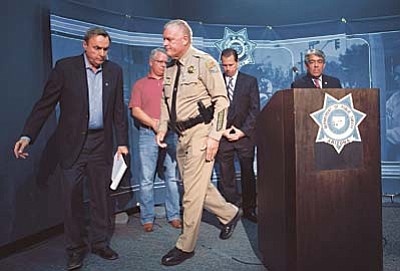 Originally Published: September 20, 2015 1:13 a.m.
I'm sure Phoenix-area drivers are breathing a collective sigh of relief today. I was on the desk here at the office when the news broke Friday night about the capture of the suspected freeway shooter. Notice that I said "suspected" - that'll come into play shortly.
The editor on duty keeps eyes on the TV news, Twitter feeds, Facebook posts, emails and wire stories, while keeping ears open to the police scanner. Skimming through the latest updates, I was pretty surprised to see a Tweet from Gov. Doug Ducey proclaiming "We got him!"
That was followed by dozens of Phoenix-media Tweets that the freeway shooter may have been caught.
May have. Alleged. Suspected.
We aren't guilty because we've been arrested, folks. That's what the court system is for - declaring guilt or innocence.
Catching a sniper by definition isn't an easy feat. Yes, it was a great deal of hard police work that went into tracking down one person in millions and matching their gun in a pawn shop in a metro area.
Personally, I have great faith in the new leader of the Department of Public Safety, Director Frank Milstead. He spent time in our office and I learned a great deal about him. This is a huge test of his leadership and it's being done in the media spotlight. I don't feel he's the type of police officer who would confidently and publicly admit his department has "their guy" if there was any doubt.
That said, the suspect is still simply that, a suspect. Until a judge declares otherwise or the man admits guilt. Jumping the gun with "We got him!" was condemning someone before their due process.
Let's also not forget that Milstead admitted that there may have been copycat shooters and they are still investigating.
Evidence from shell casings and bullet fragments matched a gun that the suspect pawned. According to police, that gun was used in four of the shootings on Aug. 29 and 30. Was the man who pawned that gun the shooter? We'll find out in due time, I'm sure.
Until then, the suspect remains a suspect.
- Robin Layton, editor
Follow Robin Layton on Twitter @RobinLaytonAZ. Reach her at 928-445-3333 ext. 1095, rlayton@prescottaz.com or 928-533-7941.