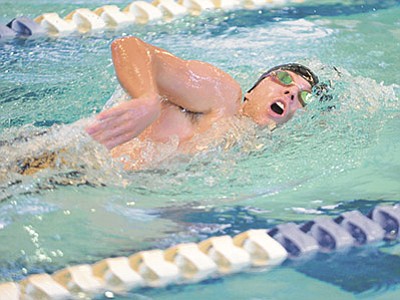 Originally Published: September 17, 2015 6:02 a.m.
Prescott High's swimming team is almost three weeks into its 2015 season, which means that the Badgers have gotten a better feel for their strengths and weaknesses.
With three meets in the books, Division II Prescott now has about a month and half to continue fine-tuning their strokes before the state meet arrives Nov. 6 and 7 at Skyline Aquatic Center in Mesa.
What follows is a synopsis for how the Badgers' girls' and boys' teams are doing at this point in the campaign.
GIRLS
Senior sprinter Raphael Temple captains the Badgers' girls' team this fall. This past off-season, Temple suffered a severe knee injury while playing volleyball, her first love, and decided to swim while she continues to heal.
Temple still plans on working toward a scholarship to play college volleyball, but swimming will keep her active in the meantime.
She will most likely attempt to qualify for state in the 50-yard freestyle and the 100 butterfly, two of Temple's best races. In practice recently, Temple set an unofficial school record in the 50 free with a time of 25.6 seconds, two-tenths of a second faster than the official record (25.8).
Longtime Prescott coach Brigid Bunch said Temple, a first-time varsity swimmer, will swim the 100 backstroke, too, to gauge her competitiveness in that event.
"Raphael can qualify (for state) in just about anything, if not everything," Bunch added about Temple, who was the Courier's All-Area volleyball player of the year. "We're trying her out in a lot of different things, because we're trying to find out where she would fit best at a state meet."
In 2015, for the first time in years, the PHS girls' swimmers have more depth on their roster, and it's showing, Bunch said. The 200 medley relay and 200 free relay teams have a shot at state qualifying, for example.
"We have more than enough girls, and some real standouts coming up in the ranks - freshmen, sophomores really pulling the weight of the team almost," she added. "It's really cool."
At the Badgers' most recent meet on Tuesday, Sept. 15, the girls' team traveled to Flagstaff High and won, 100-62, at 7,000-plus feet elevation.
Winners for the PHS girls included Temple in the 200 individual medley (2:30.2) and the 100 fly (1:06.5), and the 200 medley relay team of Tori Winsberg, Brea Christopherson, Lacey Ingallina and Temple.
Runners-up were freshman Ingallina in the 100 fly; freshman Winsberg in the 50 freestyle (31.47 seconds) and 500 free (7:04.75); and Christopherson in the 100 backstroke (1:19.66) and 200 free (2:37.87). (Bunch said to also keep an eye on Megan Crimmins, another of the team's newcomers, in the fly and individual medley.)
At high elevation, swimmers' times typically rise at least a few seconds in the longer-distance events, Bunch said, so she was pleased with the overall effort.
"At altitude, they were all good times," she added about her team. "Having so many (girls) and so many that can swim various strokes, I can put three strong swimmers in every event - and I don't know that that's ever happened."
BOYS
Senior captain Jaxton Peterson, who's in his fourth varsity season at PHS, leads a 14-member team that, unlike the girls, lacks depth.
Bunch said she needs 20 boys for a complete squad and that she's had a difficult time slotting swimmers into all events at meets.
"First time in 14 years (of coaching) that I can't fill out a roster - I can only put together two of the three relays," Bunch said. "I have strong kids; we just need more of them."
Peterson, a solid letter-winning sprinter who has performed well in the postseason, plans to qualify for the 2015 state meet in the 50 free and 100 free at this weekend's Wolves Classic in Chandler. He should make state in the 100 fly as well.
Bunch said Prescott's 400 free relay and 200 free relay teams should qualify for state, too.
For the Badgers' boys on Tuesday, Flagstaff beat Prescott, 109-61. Winners for the hometown squad were Peterson in the 100 fly (1:01.5) as well as the 400 free relay team of Paul Kinach, Isaiah Kaitschuck, Tate Bassett and Peterson (3:52.82). Despite being ill, Peterson also finished second in the 200 free.
"When you train at altitude, like at Flag, you could see our team kind of peter out towards the end," Bunch said. "We felt the altitude, where they (Flagstaff Eagles) were oblivious. They have that advantage. They also had a lot of boys on their team."
The Badgers' boys' and girls' will compete in the Wolves Classic, an invitational state-qualifying meet, at 9 a.m. this Saturday, Sept. 19, in Chandler.
They will then move on next Tuesday, Sept. 22, to swim in Cottonwood against host Mingus Union and Scottsdale Prep.
One drawback to this season, Bunch said, is that the Northern Arizona Regional Meet scheduled for Oct. 23 and 24 in Cottonwood was recently canceled when two teams dropped out.
"That was one of our two state-qualifying meets that got taken away at the last minute," Bunch said. "Now I'm going to have to scramble to fit in another meet that will let us in at this point."
Follow Doug Cook on Twitter @dougout_dc. Reach him at 928-445-3333 ext. 2039, or 928-642-7865.