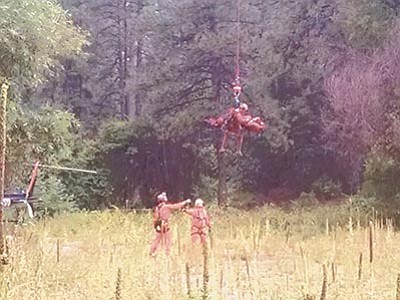 Originally Published: September 7, 2015 5 p.m.
PRESCOTT - A hiker in the Granite Basin area on Monday fell into an agave plant, causing multiple puncture wounds to his abdomen.
The accident happened just before noon a mile or so off the main trail. Rescue crews from the Yavapai County Sheriff's Office, fire departments and LifeLine ambulance responded to the trailhead. Prior to their arrival the hiker was able to pull all but one thorn out, said Dwight D'Evelyn, spokesman for the Sheriff's Office. The one left in was just below his sternum and had broken off below the skin.
"The victim was not able to move without severe pain," and his companion was able to call 911 and initiate the rescue, the responding deputy reported.
The DPS Ranger helicopter dropped a member of the Yavapai County Search and Rescue Team's Back Country Unit with the patient to prep for transport, the deputy said. The patient was successfully lifted back to the boat launch area of Granite Basin Lake, where a Native Air helicopter was waiting.
The patient was flown from there to the Flagstaff hospital, D'Evelyn said. The hiker's status was unavailable at press time.
Fortunately, the hiker was with a friend, D'Evelyn said, keeping the victim calm, providing real time updates on the man's condition, and giving critical information to aid the helicopter crew in location efforts.
Watch dCourier.com and The Daily Courier for more details as they become available.
More like this story