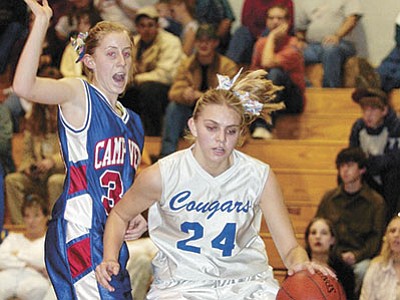 Originally Published: September 3, 2015 4:03 p.m.
Chino Valley High will induct six former athletes, two coaches and a pair of its championship boys' soccer teams into the school's inaugural Athletic Hall of Fame class Friday, Sept. 4.
Four-sport star Kelly Smith; three-sport standouts Matt tenBerge, Jodie Denike, Andrew Pratt and Stacy Haddow; two-sport star Amy Pratt; longtime boys' soccer coach Jim Clark; former baseball coach/athletic director Tom Pratt; and the Cougars' 1990 and 1991 boys' soccer squads comprise the Class of 2015.
Each of these individuals and teams will be honored during an invitation-only dinner at the high school at 4 p.m. Friday and again at halftime of the home football game versus Scottsdale Christian at 7.
Chino Valley High Athletic Director Peter Jelovic said he spearheaded a six-member Athletic Hall of Fame Committee, which met within the past several months to choose the inductees for the inaugural class. CVHS opened in 1989 and has been open for more than 25 years now.
"This first class is the best of the best," Jelovic said. "It's an elite class."
A plaque for each inductee will soon hang permanently along the perimeter of the south-side wall inside the main gym on campus, Jelovic added.
The Athletic Hall of Fame Committee plans to induct three to five more athletes/coaches/teams in 2016. Jelovic said the committee has compiled a list of about 75 former Cougars' athletes who are worthy of induction. Some Chino Valley residents have made recommendations to the committee, which has taken those names into consideration, he added.
On Friday the school expects 70 people to attend the induction dinner in the cafeteria. Each inductee will receive his or her own CVHS Athletic Hall of Fame plaque, a duplicate of what will hang in the gym. Jelovic said all of the 2015 inductees are expected to attend the dinner.
What follows is a description of the primary athletic accomplishments for each inductee in the CVHS Class of 2015 in alphabetical order, as described on the induction plaques.
ATHLETES
• Matt tenBerge (1990-92): A member of the high school's first graduating class in 1992, tenBerge was a four-year captain of the boys' soccer team. Guided by tenBerge, the Cougars won the 1990 and 1991 AISL state championships. TenBerge was also a four-year letter winner in basketball and baseball, and he received the Division III Scholar Athlete award in 1992.
• Jodie Denike (1997-2000): A 2001 graduate, Denike lettered in cross-country, basketball, and track and field. In cross-country, Denike won a Class 3A West Region championship and was an All-State runner for four seasons, from 1997-2000. During her senior year in 2000, Denike captured a 3A state title en route to All-American honors. A four-year varsity player in basketball, Denike made the 3A West All-Region team. During the 2000 and 2001 seasons in track and field, she garnered 3A West Region championships and was a 3A state titlist in the 800 meters, 1600m and 3200m.
• Andrew Pratt (1997, 1998): Andy Pratt excelled as a baseball pitcher. The 1998 graduate was a four-year letter winner and a member of the Cougars' 1997 and 1998 state finals teams. The Texas Rangers drafted the 3A All-State pitcher in the ninth round of the 1998 Major League Baseball draft. Andy played 10 seasons of pro baseball with the Rangers, Atlanta Braves, Chicago Cubs and Milwaukee Brewers organizations. He pitched in parts of two major league seasons with the Braves and the Cubs.
• Stacy Haddow (2003-05): Haddow, a 2005 graduate, lettered in volleyball, basketball and golf. She earned All-Region and All-Conference accolades in volleyball. In basketball, Haddow garnered 3A All-State honors from 2003-05 and was selected to the state's all-tournament team in 2004 and 2005. She made the 3A West All-Region team for four seasons and was the region's Co-Player of the Year in 2005. The Daily Courier named Haddow the newspaper's tri-city area Player of the Year in 2004 and 2005. After high school, Haddow played basketball at Grand Canyon University in Phoenix, where she was a two-year captain and a member of GCU's three-time Pac-West Conference championship teams. After college, Haddow won a gold medal with her overseas team in Germany.
• Amy Pratt (1997-2000): Amy Pratt lettered in volleyball and basketball. She played four varsity seasons in volleyball, earning Class 3A All-State honors from 1997-99. In 1999, Amy was named "Yavapai County Player of the Year" and was selected to the All-Arizona team. She was also listed among the Top 75 players in the nation while playing for the Cougars. After graduation, Amy competed on scholarship for the University of South Carolina.
• Kelly Smith (2002-04): Smith earned 13 varsity letters in soccer, basketball, track and field, and softball before graduating in 2004. A four-year letter winner in soccer, Smith was selected to the Class 3A All-Region team and the All-Arizona small-high school team twice. She was also a member of the Cougars' 3A West Region champion/co-champion basketball teams during the 2002, 2003 and 2004 seasons. Smith excelled in track, too. As a senior in 2004, she won state championships in the 100m, 200m and 400m. In 2003, Smith captured state titles in the 200m and 400m, and she was a member of Chino's 4x400m championship team. In 2002, as a sophomore, Smith claimed state titles in the 100m, 200m and 400m.
COACHES
• Jim Clark, boys' soccer: Clark has been the Cougars' program's varsity coach for nearly three decades, and for good reason. Chino Valley has won six state championships, including two in the former AISL (1990, 1991) and four in the current AIA (2000, 2008, 2013 and 2014). Clark was named the "AIA 1A-3A Coach of the Year" in 2015 and has been nominated as the top soccer coach five times by his peers. The well-respected Clark has won more than 300 games during his tenure.
• Tom Pratt, baseball (honored posthumously): Recognized for bringing baseball to Chino Valley High in 1992, Tom Pratt coached the baseball team from 1992-1999. During his time, the Cougars played in the state championship finals in 1997 and 1998. The Cougars were crowned 3A regional champions in 1992, 1996 and 1998. Coach Pratt left the high school after the 1999 season to coach in the Chicago Cubs organization. He was a pitching coach for the minor league teams during his tenure with the organization. Tom was also the first athletic director at CVHS.
TEAMS
• 1990 Boys' Soccer: The 1990 team gave Chino Valley High its first state championship, compiling a 9-0-1 overall record. The team started a tradition of excellence in the soccer program while gaining recognition throughout the state. Under coach Jim Clark, team members included: Eric Anderson, Erik Bentley, Jesse Clark, Matt Dunbar, Mike Dunbar, Ty Frerking, Larry Garrison, George Habecker, Cory Helton, Ben Holley, Matt Kennedy, Aaron McCoy, Josh Newman, Erin Silva, Gary Smith, Steve Surak, Matt tenBerge and Jorn Toole.
• 1991 Boys' Soccer: The 1991 team's members were part of the first senior class to graduate from Chino Valley High. The Cougars' overall record that year was 12-0-0 (21-0-1 over two seasons). Their undefeated record is still unmatched by any other soccer squad in the school's history. Under coach Jim Clark, the team's members included: Eric Anderson, Trinity Bell, Erik Bentley, John Benson, Jesse Clark, Matt Dunbar, Jesse Federwisch, Roger Federwisch, Ty Frerking, Corey Helton, Shu Hirano, Matt Holmes, Matt Kennedy, Aaron Logan, Aaron Newman, Josh Newman, Adam tenBerge and Matt tenBerge.
To report an item for the High School Notes column, send an email to dcook@prescottaz.com or call him at 928-445-3333, ext. 2039.