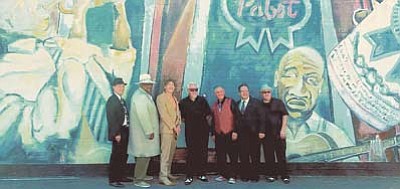 Originally Published: October 29, 2015 6:05 p.m.
R.D. Olson's Blues Band won the first Northern Arizona Blues Challenge Oct. 10 and will represent Northern Arizona at the International Blues Challenge in Memphis on Jan. 17. On Jan. 16, Olson will be inducted into the Arizona Blues Hall of Fame.
The Northern Arizona Blues Challenge was held at Town Park in Clarkdale with about 250 folks attending.
Olson, a Prescott resident, said winning is always good and he wasn't surprised his blues band won because they won the Arizona Blues Challenge in Phoenix last year, took second twice and third once in previous years.
"So, we have a history of being in the winner's circle," he said.
Olson's Blues Band played three original songs at the Northern Arizona Blues Challenge: "Sheila," "Johnny Walker" and "Big Eric's Boogie." They also played a Little Walter cover song. The other bands or musicians competing at the Northern Arizona Blues Challenge were Mother Road Trio from Flagstaff, Sweet Baby Ray from Cottonwood and Blues Dawg from Sedona.
Olson's band hopes to raise $4,000 to go to Memphis. That money will pay for travel, hotel and expenses. The band plans fundraisers in the Prescott, Sedona, Flagstaff and Phoenix areas but no dates have been set yet.
Last year, Olson's band represented Arizona at the International Blues Challenge.
"The difference between this year and last is the band had only been together a few months last year.  We still have the same band. We simply have had much more playing time together. We have played three major festivals and recorded a CD together. This is a huge difference over last year," he said.
Olson is the front man with vocals and harmonica. The other band members are Bob Sellani on drums, Darryl Porras on guitar, Jamie Waldron on guitar, Eric Williams on piano and sax, Andy Nielison on trombone and Lee Sullivan on sax.
Olson said going to Memphis is a great experience because his band had a chance to meet musicians from throughout the world. Last year, Olson's band received some air time from disc jockeys who saw them perform. They also received interest from other blues professionals.
Olson's CD, which should be out sometime in December, is handled by national promoter Frank Roszak.
"The CD should get a month of airplay before we get to Memphis," he said. "Memphis is looking for bands ready for the next level and we are ready."
Olson's band takes pride in acting professionally by dressing well, showing up early, never drinking before a show and playing music that gets the crowd dancing.
More like this story