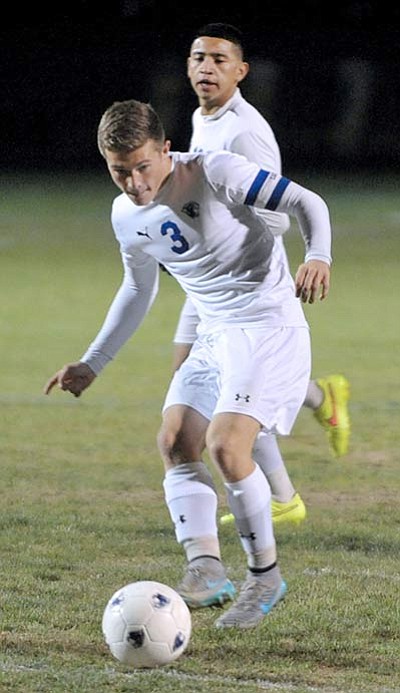 Originally Published: October 22, 2015 11:12 p.m.
CHINO VALLEY - In their final tune-up before the Division V state playoffs next week, the top-ranked Chino Valley boys soccer team recorded their 14th shutout of the season in a 17-0 win over visiting Grand Canyon on Thursday night.
Chino Valley head coach Jim Clark said the Phantoms were outmatched, so it wasn't a good indicator as to how "ready" the Cougars are for state, but he feels confident.
"Tonight is not really an indicator that we are the No. 1-ranked team. We played one of the bottom teams, and they did what they could, but there wasn't any match up," said Clark, who saw his team score three goals in the first 5 minutes of the match. "We tried to possess the ball and keep the score down, but I think we're ready mentally. We're good and we've been there before. I think we're ready to go."
With the win, the two-time defending state champions ended the 2015 regular season with an 18-1 record, having won 10 straight since their 3-2 loss to Show Low nearly a month ago.
Since that loss, Chino Valley has outscored its opponents 65-4.
With that, senior goalkeeper Spencer Coffin said the Cougars have bonded well this season and he expects great things when the Division V state playoffs begin on Halloween.
"We have worked on things, tweaked things and conditioned ourselves," Coffin said. "We are ready."
Coffin didn't play much between the posts Thursday night. He was placed at the forward position by Clark and scored the first goal of his career off a break-away as time expired in the first half to make it 11-0 Cougars.
"I've had plenty of opportunities to play on the field in previous games, but I wanted to save it for senior night to make it more special," said Coffin, who added that it's important the Cougars don't underestimate anyone they will play in the tournament.
"[We need to] keep working hard in practice, keep the ball moving and just play above and beyond," Coffin said. "Get better and better every game."
And on a night where fans, parents and faculty members honored their Cougar seniors, it was a freshman who kicked off the game's scoring as Jordan Sanchez scored in the 2nd minute to make it 1-0, the first of three goals on the night.
In the 5th minute, junior Arturo Gomez netted a score to make it 2-0, his first of two goals against Grand Canyon, and Sanchez again scored to make it 3-0 just 30 seconds later.
Joining Sanchez in the hat trick club against Grand Canyon was senior Tyran Payne, who netted his third goal of the night to make it 12-0 in the 50th minute.
Payne said his squad is "more ready than ever before" for the state playoffs.
"We work hard every practice and every game and we are going for the big one," Payne said of Chino Valley, which has won two straight state titles, beating Blue Ridge in both matches. The Yellowjackets are currently ranked No. 5 in the Division V power point poll and the Cougars could see them in the state semifinals if seedings hold true as of Thursday.
Payne said the Cougars are "hungrier than any other team."
"I think that's going to carry us a lot through the playoffs," Payne said. "We are going to play our opponent like any other opponent and we're coming out to win."
The Division V state tournament is set to begin Thursday, Oct. 29, but the Cougars will have a first-round bye thanks to their No. 1 ranking in the polls.
Chino Valley will play the winner of the No. 8-No. 9 match on Saturday, Oct. 31, at home with an official start time of 2 p.m.
Follow Brian M. Bergner Jr. on Twitter at @SportsWriter52 or reach him by phone at 928-445-3333, ext. 1106, or 928-899-6946.