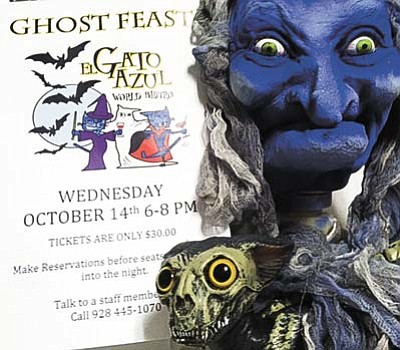 Originally Published: October 12, 2015 6:02 a.m.
The time of ghouls and ghosts is nigh as Prescott Center for the Arts' annual Ghost Talks looms ever closer, with Halloween following soon after. But before the spirits come out for a good haunt, El Gato Azul is holding the first ever Ghost Feast on Wednesday, Oct. 14, featuring ghoulish tapas and drinks. Tickets are $30, and with seating frighteningly limited, reservations should be made by calling 928-445-1070 or visiting the eatery at 316 W. Goodwin St.
Ghost Feast is a brand new addition to this year's Ghost Talk production, director Karen Murphy said. El Gato Azul owner Barry Barbe came up with the idea as a sneak preview benefit performance.
"We're just doing snippets; we cut each story," Murphy said. "It's kind of like a cliffhanger. "Our narrator goes, 'If you want to see what happened to the slasher, you have to come next week."
Also before the Ghost Talk is the annual Tech Talk, on Thursday, Oct. 22, prior to the shows on Friday and Saturday, Oct. 23 and 24.
Tech Talk is a full dress rehearsal followed by questions from the audience as to how certain stunts in the show were done as well as other technical aspects, Murphy said. She hopes to have at least 100 children present for Tech Talk.
"We have all these special effects that I'm thinking a lot of the kids will probably want to know, 'Hey how do you do that?'" she said. "We have some really cool makeup, masks, hair, the period costumes."
Ghost Week events and Ghost Talk are Make-a-Difference events, and all the money raised will go to youth programs.
Follow reporter Jason Wheeler on Twitter @PrescottWheels. Reach him at 928-445-3333 ext. 2037 or at 928-642-5277.