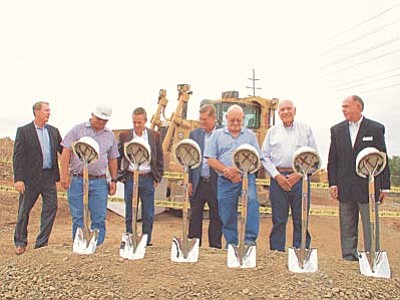 Originally Published: October 4, 2015 12:30 a.m.
PRESCOTT - With a ceremonial turn of dirt, the groups behind a new 160-unit housing complex on Willow Creek Road marked the start of construction this past week.
Work at the site had already begun, however, with several earthmovers and other heavy equipment onsite when Cole Johnson, president of Paul Johnson Drywall Inc. made the announcement Sept. 21. His development company, Parlay LLC, will build a "garden-style apartment community."
Construction is expected to be completed by late October 2016. Units will range from studio to two-bedroom apartments and carriage houses with detached garages. Plans include clubhouse and outdoor barbecue facilities, community entertainment space, courtyards and 24-hour fitness center.
Johnson said the project has been three years in the making.
"There is nothing better than to see progress and construction in any of our cities," Tom Simplot, president and CEO of the Arizona Multihousing Association, said.
Prescott Mayor Marlin Kuykendall noted the complexity of getting large-scale housing projects going in Prescott.
"There are no easy sites in Prescott," he said.
He said Prescott has grown with large, expensive homes, which has meant the working class has found accommodations elsewhere, like in neighboring Prescott Valley.
Kuykendall said he welcomed the addition of market-rate housing in the city.
Follow reporter Les Bowen on Twitter @NewsyLesBowen. Reach him at 928-445-3333, ext. 1110, or 928-830-9305.