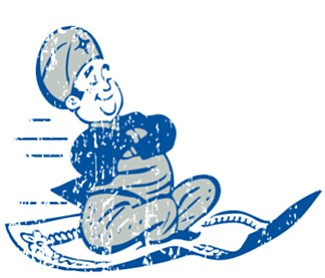 Originally Published: November 9, 2015 4:16 p.m.
Bagdad High's run toward a third consecutive Division VI football state championship game appearance fell short Saturday night, Nov. 7, in Maricopa, as top-seeded Pima defeated the No. 4 Sultans in a 50-40 barnburner.
Playing in the semifinals at Maricopa High south of Phoenix, Bagdad quarterback Israel Loveall threw for 289 yards and six touchdowns, tying the division's single-season record for TD passes with 50 in the elimination game.
But Loveall's fireworks weren't quite enough against a Pima squad that pulled away in the second half after being tied with Bagdad 14-14 at the end of the first quarter and 26-26 at halftime.
Pima fumbled the opening kickoff of the second half. Bagdad recovered, but went three-and-out on its ensuing possession. Sultans coach Dalton Mills said that spelled trouble for his team, which would go on to trail 38-30 at the end of the third quarter.
In the fourth quarter, the Roughriders scored again to pad their lead at 44-30. Bagdad would get no closer than seven points of a tie after that, though, as Pima pulled away late.
Mills said his defense did a fine job against Pima's running game, but surrendered 270 yards receiving to a Roughriders offense not typically known for its effectiveness through the air.
"They made some tremendous plays," Mills added of Pima's offense.
Bagdad finished its 2015 season with a 9-2 record, while Pima improved to 11-0. The Sultans only two losses of the campaign came against the Roughriders.
Pima will move on to face second-seeded Valley Union for the D-VI state championship at 6 p.m. Saturday, Nov. 14, at Maricopa High. Valley Union beat No. 3 Superior, 36-30, in Saturday's other semifinal in Maricopa.
More like this story