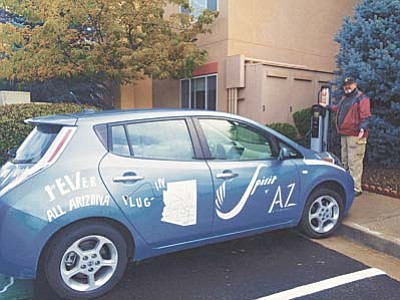 Originally Published: November 8, 2015 6:02 a.m.
Prescott's only publicly accessible electric vehicle (EV) charging station just had a unique customer.
Retired U.S. Army sergeant major and energy sustainability advocate Jerry "EV Jerry" Asher passed through here during his fourth Plug'n All Around AZ tour-a pilgrimage he makes annually in his Nissan Leaf to spread the word about electric vehicles and to map-out charging stations.
Calling it a Mayoral EVenture, Asher's mission has been to speak with business owners and mayors throughout the state to convince them of how relevant EV charging locations are to their economy and that they should install more-or at least one if they have none.
"Say 50 EV drivers from Phoenix per week decide to pass through Prescott to charge up their vehicles because there are accessible charging stations," Asher said. "While waiting for their vehicle to charge (which can take several hours), they might decide to grab lunch, buy a couple things and maybe even stay in a hotel for the night. That's money in your local economy, all because there were places to charge up."
Margo Christensen, vice president of marketing and public relations for SpringHill Suites by Marriott near downtown Prescott, has seen this very concept work for the EV station the hotel installed just a few months ago.
"The charging station is not a direct revenue generator," Christensen said. "But we've had people come charge up their vehicles, look around, and then decide to book a night in the hotel. So it's working as the indirect revenue generator that I thought it would."
More importantly to Asher, though, is the social and environmental benefits that come with the rise of electric vehicles and alternative energy use. He considers his tours around the state a public service and hopes to make a splash with education.
"By talking about it more, it plants that seed," Asher said. "Let's plug Prescott in. It already has a start with Margo here. Now if other hotels and businesses start doing the same thing, it will really be a destination for electric vehicle owners."
Follow Max Efrein on Twitter @mefrein. Reach him at 928-445-3333 ext. 1105, or 928-642-7864.